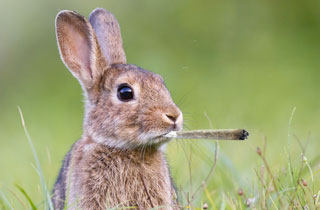 Today we learned that wild rabbits can get stoned by eating marijuana plants grown in illegal farms in Utah.
This piece of crucial knowledge emerged as a result of a new bill currently being debated in Utah's state legislature, which would legalize medical marijuana. According to the Washington Post, however, DEA special agent Mike Fairbanks testified in front of a Utah State Senate panel that such a bill would destroy the environment, including, but not limited to, every bird and beast that roamed the wild getting blazed out of their minds.
"I deal in facts. I deal in science," he told the panel, citing his extensive field experience as a member of the state's cannabis eradication team:
Fairbanks spoke of his time eliminating back-country marijuana grows in the Utah mountains, specifically the environmental costs associated with large-scale weed cultivation on public land: "Personally, I have seen entire mountainsides subjected to pesticides, harmful chemicals, deforestation and erosion," he said. "The ramifications to the flora, the animal life, the contaminated water, are still unknown."

Fairbanks said that at some illegal marijuana grow sites he saw "rabbits that had cultivated a taste for the marijuana. …" He continued: "One of them refused to leave us, and we took all the marijuana around him, but his natural instincts to run were somehow gone."
The bill would regulate marijuana production throughout the state and would require pot growers to move their operations indoors — i.e. rabbit-free zones — and, according to the AP, has been approved in committee and sent to the Senate for full debate. But no one has thought of the rabbits, which is a darn shame.
[The Washington Post]
[Image by Tina Nguyen photoshopping via Shutterstock]
—
>> Follow Tina Nguyen (@Tina_Nguyen) on Twitter
Have a tip we should know? tips@mediaite.com