Dean Obeidallah Posts Lengthy Apology to Romney Family 'But Not the Wingnuts'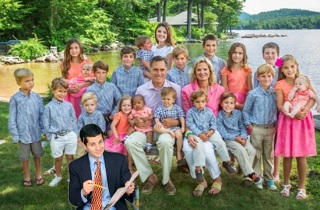 What began as online criticism of a ham-handed cable news segment has now morphed into a full-blown public cable news flogging of Dean Obeidallah, Pia Glenn, and MSNBC host Melissa Harris-Perry, who participated in said segment on Sunday's episode of Harris-Perry's show. After a round of Twitter apologies from all involved, plus an emailed statement to CNN, Obeidallah has also posted a more lengthy apology at The Daily Beast, expressing his regret to the Romney family, but not to "the wingnuts" and "right-wing trolls who were attacking me."
In case you missed the segment, you can watch it here. Pegged to a rundown of the "photos of the year," Harris-Perry introduced the Romney photo by saying "Everybody loves a baby picture, and this was one that really, a lot of people had emotions about this baby picture this year. This is the Romney family. And, of course, there on Governor Romney's knee is his adopted grandson, who is an African-American, adopted African-American child, Kieran Romney."
Panelist Pia Glenn reacted by singing "One of these things is not like the others, one of these things just isn't the same," a tune whose original lyrics read "one of these things doesn't belong."
"And that little baby, front and center, would be the one," she added.
"And isn't he the most gorgeous?" Harris-Perry said. "My goal is that in 2040, the biggest thing of the year will be the wedding between Kieran Romney and North West. Can you imagine Mitt Romney and Kanye West as in-laws?"
"I think this picture is great," Obedeillah said. "It really sums up the diversity of the Republican Party, the RNC. At the convention, they find the one black person."
Dean and Pia Glenn apologized on Twitter, as did Melissa Harris-Perry, and Obeidallah even emailed a statement to CNN, where he contributes freelance opinion pieces. On Tuesday morning, he offered a fuller assessment of Kierangate. From The Daily Beast:
And, of course, my Twitter feed exploded with right-wing trolls attacking me. Leading the charge was conservative Dana Loesch who tweeted various comments to me such as:  "You're a baby-bullying bigot."  (Amazing use of alliteration, I must say.) She then apparently confused me with someone who in leadership in the Democratic Party: "Continue to show everyone you're the party of bullying black babies and suppressing minority involvement in other parties."

As the attacks on my joke were building, I kept waiting for Sarah Palin and Bobby Jindal to defend me like they recently stood up for Duck Dynasty's Phil Robertson. I thought at least Jindal would call out the "politically correct crowd" as he did for good ol' Phil. But still not a peep from them about my freedom of expression. I guess to those two, freedom of expression only applies when you are making derogatory comments about gays or saying blacks were happy during segregation.
Dean goes on to offer his thoughts on the current media culture of outrage, before offering this apology:
With that said, let me be clear:  I want to sincerely apologize to the Romney family if anyone was offended by my joke.  I did not in anyway mean to attack the Romney family for adopting a child, which is truly commendable. Nor did I intend to mock baby Kieran in any way. I would never intentionally demonize people in that manner.
He concluded by advising his conservative critics that "I will never stop calling out the wrongs and hypocrisy of the right. Be it citing Jesus' name to justify slashing programs that help the less fortunate, demonizing Muslims or gays for political gain, or trying to disenfranchise minority voters with voter ID laws. And for those jokes and comments, I can assure you, I will never apologize."
Have a tip we should know? tips@mediaite.com