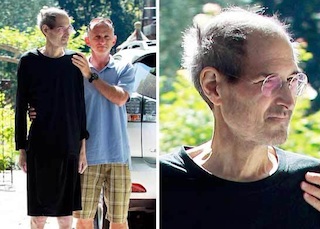 When Steve Jobs stepped down as Apple CEO this past week, it became clear just how much he meant to so many people. Some respected him as a brilliant innovator, some saw him as a sign that America could still lead the world, and some acknowledged just how much easier his products had made their lives. Therefore, it's unsurprising just how saddened many people were to see a photo posted on TMZ yesterday that purports to show a gravely ill Jobs looking frail and needing support to walk. It's also unsurprising, however, considering just how secretive Jobs always kept the specifics of his illness and its effects, that many are now debating whether or not the photo is real.
Last night, a Redditor posted a picture under the headline "The TMZ photo of Steve jobs is fake here is proof…" In the picture, he or she attempts to prove that the picture has been photoshopped.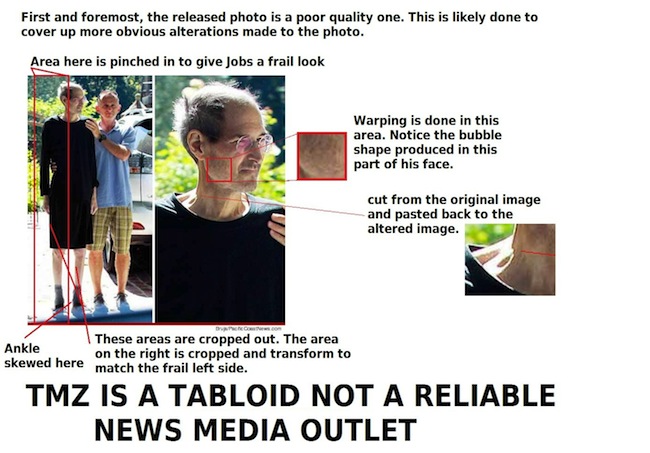 While the Reddit post shot up through the popular site, the growing consensus in the comments seems to be, while the picture may be fake, the "proof" given here isn't persuasive.
While this could just be a silly online debate, these are accusations with some serious implications. One of the reasons for the secrecy surrounding Jobs' health has always been that it affects Apples' stocks. In fact, just after Jobs resigned, Apple shares dropped 5%. If the picture, which is credited to Pacific Coast News, could have affected a lot of money. And that's not even counting the money TMZ paid for it.
All of this could, of course, be moot. Whether or not the picture is fake, Jobs is, unfortunately, very sick. As he said in his resignation letter, the day "when I could no longer meet my duties and expectations as Apple's CEO" had come.
Hopefully though this man who is such a hero to so many will be able to stay with us for a long time to come.
(h/t Gawker)
Have a tip we should know? tips@mediaite.com