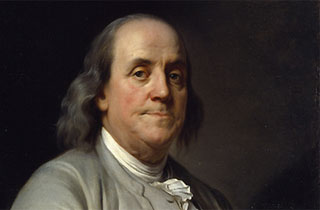 A recently-declassified CIA document analyzing the founding of America determined that Benjamin Franklin — yes, that one — had been such a massive security risk that it was a miracle that he didn't screw up the entire American Revolution.
The article, which ran in the CIA's in-house journal Studies in Intelligence, focused on Franklin's time in France as part of the three-man American Commission, and found that the diplomatic group — key to coordinating France's crucial assistance to American forces — had been "penetrated" by multiple British spies.
Based on historical documents, the CIA determined that the British had penetrated the American commission with at least four agents. One of them, Edward Bancroft, served as the Commission's secretary, and was an old personal friend of Franklin's and had access to all of the Commission's documents.
Despite fellow members of the commission voicing their suspicions about Bancroft, Franklin not only refused to acknowledge that he'd been compromised, but also was terrible at keeping secrets and was a bit of an egomaniac:
While highly respected, [Franklin] was also vain, obstinate, and jealous of his prerogatives and reputation. He had decided that his role would be that of an "agent of influence" among the politically powerful in France..the Commission was "under protection" of the French government, and Franklin may have underestimated British capabilities to operate in a friendly third country…

His ego may have overwhelmed his common sense. Like many government officials before and after him, he may have believed that he knew exactly what he was doing and that his judgement required no additional verification.
"Perhaps the greatest irony in the whole story of the penetration of the American Commission is that, while British intelligence activities were highly successful, British policy was a total failure," the CIA noted.
Yep, at least there's that. Thanks, Ben Franklin.
[io9]
[Image via Wikimedia Commons]
—
>> Follow Tina Nguyen (@Tina_Nguyen) on Twitter
Have a tip we should know? tips@mediaite.com