'Mmm-Mmm Bad!' Dem Congressman Uses Campbell's Soup To Explain GOP's Health Care Plan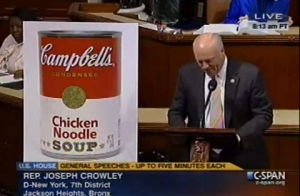 Members of Congress are allowed the occasional rhetorical flourish in their floor speeches, but sometimes they tend to go just a little too far into the absurd. In an attempt to mock the Republicans holding yet another vote (so far they're up to 33) to repeal the Affordable Care Act, Democratic congressman Joe Crowley got on the floor of the House of Representatives today and basically said the GOP's health care alternative is Campbell's chicken noodle soup.
RELATED: Grayson's 'Die Quickly' Is A Far Cry From Wilson's 'You Lie!'
Crowley argued that the Republicans have been perfectly willing to do whatever they can to repeal the health care law, but haven't given much detail about what they would replace it with. But then the congressman unveiled what the actual alternative is: Campbell's Soup. Mmm, just like Warhol used to paint. He punctuated several of his sentences with a hearty "mmm!" while mocking the GOP with Affordable Soup Care.
"Can't afford health care coverage and need medical care? Have some chicken noodle soup. Been diagnosed with a serious disease and can't afford the prescription drugs you need to treat it? Have some chicken noodle soup."
But towards the end of his remarks, Crowley seemed to betray his own mockery a bit and started getting just a little too serious on the soup talk.
"I don't know why Republicans want to go back to the day when chicken noodle soup was the only option for hard-working families who couldn't afford care. The truth is, chicken noodle soup might be mmm-mmm good lunch, but as a health care policy, it is mmm-mmm bad."
I guess you could say he was being soup-ercilious. Right? Right? Where's everyone going?
Watch the video below:
h/t Dave Weigel
Have a tip we should know? tips@mediaite.com
Josh Feldman - Senior Editor