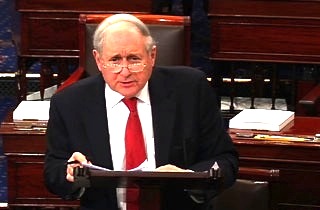 Since the release of Army Sergeant Bowe Bergdahl from Taliban captivity this weekend, the Obama administration has come under criticism for circumventing of the law requiring thirty-day congressional notification of a prisoner swap, with many stating that the White House "broke the law" and some GOP lawmakers calling for hearings.

On Tuesday morning, Senate Armed Services Committee Chairman Carl Levin (D-MI) released a statement saying Congress "Shouldn't have been surprised" by the White House's actions given recent briefings.
The statement said that the White House had met the requirements of notification last December:
"We received a detailed classified notification from the Secretary of Defense that satisfies the many substantive certification requirements of the National Defense Authorization Act for Fiscal Year 2014.

"Relative to the requirement that the notification be provided 30 days in advance of the transfer of detainees, the President put Congress on notice on Dec. 23, 2013, that he intended to exercise his powers as commander in chief, if necessary, 'to act swiftly in conducting negotiations with foreign countries regarding the circumstances of detainee transfers.'

"While the President cannot change the law with a signing statement, given that notice, members of Congress should not be surprised that he acted as he did in the circumstances that existed."
"When the Armed Services Committee is briefed on this matter next Tuesday, I intend to ask what risks we would have incurred if the Secretary of Defense had decided to wait 30 days after completing negotiations and providing the required notice to Congress rather than acting immediately," Levin concluded.
[Image via Carl Levin]
——
>> Follow Evan McMurry (@evanmcmurry) on Twitter
Have a tip we should know? tips@mediaite.com