Democratic NY State Senator Tells GOP Aide to 'Kill' Herself, Offers Insane Apology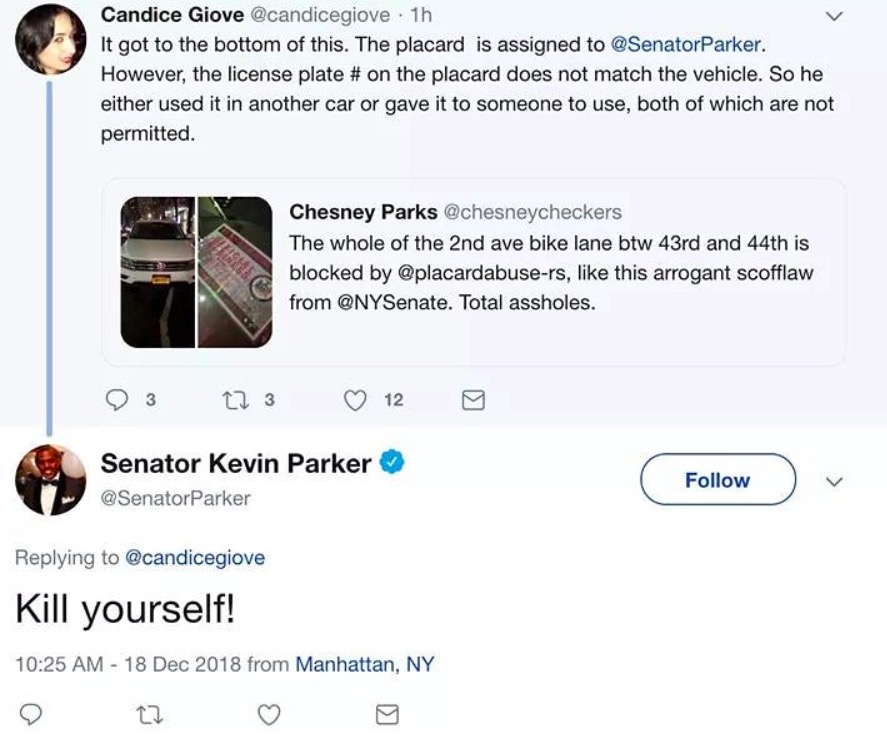 New York State Senator Kevin Parker (D), who represents the 21st Senatorial District in Brooklyn, told a Republican aide "kill yourself" in a tweet he has since apologized for and defended.
The malicious reaction was in response to a tweet from NY Senate Republican Majority Deputy Communications Director Candice Giove, who criticized the lawmaker for abusing his parking privileges. Parker deleted his post, but the exchange was saved by a Twitter user.
Oh my word. pic.twitter.com/DB7KgEZj8s

— Jon Campbell (@JonCampbellGAN) December 18, 2018
In comments to the Wall Street Journal, the lawmaker expressed regret, but defended his actions against the "Twitter troll" in regards to his temper.
"My words were not proper to say, and I've apologized for that. But let's understand what this is about: She should be spending her time getting her conference in line with the values of the people of the state of New York," he said.
"I don't know why it is a temper issue. Did I touch her? Did I yell at her? It was a tweet," Parker continued. "That's all it was. Had I said this to her in the hallway, would we be having this conversation? Probably not."
Parker posted a separate apology on Twitter, where he attempted to save face.
I sincerely apologize. I used a poor choice of words. Suicide is a serious thing and and should not be made light of.

— Senator Kevin Parker (@SenatorParker) December 18, 2018
As for the GOP aide, Giove expressed her shock in a post on Twitter, but the state Senate Republicans have yet to comment.
Did a Senator just write this to me? https://t.co/qhR0Uzarrv

— Candice Giove (@candicegiove) December 18, 2018
According to the Wall Street Journal, Parker is known for his parking-related explosions. He previously hit a traffic official in 2005 after he was written up for double parking.
[image via screengrab]
Have a tip we should know? tips@mediaite.com