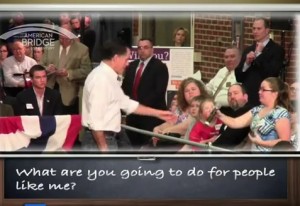 At a campaign stop on Monday, presumptive Republican nominee Mitt Romney tried to cozy up to the youth vote by expressing, as an afterthought, his support for President Obama's (without naming him) proposal to extend low-interest rates for student loans. Unfortunately for Romney, progressive American Bridge PAC has video cameras, and knows how to use them. The group released a web ad today featuring clips that are at odds with the former Massachusetts Governor's pro-student pose.
As we've noted before, what American Bridge lacks in funding (at least compared to its conservative counterparts), it makes up for with effective deployment of those resources, including video trackers who follow the Republican candidates. In their new video, "Mitt Romney to students: You're on your own," they examine Romney's record as governor, but the real star of the spot is Romney's indifference to the struggles of college students.
For example, at a town hall event in December, a student asked Romney ""I'm in dental school and I took out a ton of federally subsidized loans, and they're at like 7.9% interest. Can you do anything about that?"
Romney's reply couldn't have been more perfect if he had suggested she eat cake. "Hopefully get you a real good job that gets you real good pay," he told her.
In response to another question at a February town hall in Ohio, Romney (who, if you're playing along, just threw his support behind a plan that keeps student loan interest low) said ""You know I wish I could tell you that there is a place to find really cheap money or free money and we could pay for everyone's education – that's just not going to happen."
He also told the questioner "I hope you shopped around, and tried to find the school that has the lowest possible tuition."
That's like someone asking you to call an ambulance, and throwing them a phone book.
The ad is supported by a Priorities USA Action memo that also examines Romney's record as Massachusetts Governor:
The Massachusetts decline from 37th to 47th in job growth under Governor Mitt Romney was not just a coincidence – his cuts to job training and higher education helped make Massachusetts less competitive. Now, Romney wants give massive new tax cuts to the wealthiest while making dramatic cuts to job training and higher education on a national level.

Even with college costs increasing, Romney bragged about his cuts to higher education and his answer to a student asking about affordability was 'shop around' or join the military. Romney's rhetoric on college reflects his priorities and worldview: cutting taxes for the wealthy is more important than investing in an economy that works for the middle class.

Governor Romney's record made Massachusetts less competitive and his agenda would make America less competitive.
None of this should dissuade conservatives, who never met a spending cut they didn't like (well, almost), but the young voters that Romney is puckering so hard for right now ought to take notice.
Here's the video, from American Bridge PAC:
Have a tip we should know? tips@mediaite.com