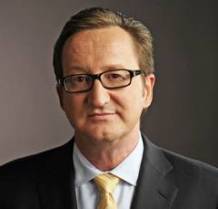 CNBC anchor Dennis Kneale's contract is up soon with the business network, and he's found an odd way to make a pitch to stay around Englewood Cliffs, New Jersey.
He's gone public about the contract status, taking a shot at execs in the process, in a Business Insider profile sure to ruffle what are likely the last feathers of his stay at the network.
Vince Veneziani at Business Insider has the exclusive interview:
It isn't clear whether all four anchors of "Power Lunch" will hold on to their spots in the one-hour remake. Kneale himself admits he doesn't know: "They haven't told us," he says of CNBC brass.

This just as Dennis's contract is due to run out at CNBC. After a 25-year career at The Wall Street Journal and Forbes Magazine, he joined CNBC in October of 2007. Given that the average contract in television is three years, that means his contract is likely coming up for renewal this fall. So far, CNBC hasn't told him whether it will keep him around. "All my life I've worked at basically three places. I'm not sure what I'll do," he says….But CNBC canceled the show in mid-September 2009, filling the time slot with documentary retreads on everything from "California Chronic" to "Billionaire Biographies." Kneale still seems stung by the move. "I'm not sure they ever watched my show" before killing it, he says. "I just hope it's not my only shot."
Absurd move to take public shots at execs while your contract is up for renewal, or extremely absurd move? A CNBC spokesperson tells Mediaite, "We don't comment on contract status."
But a former CNBC executive, Jonathan Wald, was honest in his take on Twitter. After a reporter asked "should we start a 'Save Dennis' campaign?" Wald responded, "Good luck with that." (More direct, to Kneale: "you have lost your mind.")
For his part, Kneale seems to be relishing the controversy. On Twitter, he writes, "brace for the vitriol! new profile of me here," and "the profile itself is ok, not trashing. let's see how the comments come out a few hours from now. won't be pretty."
Besides the strange decision to go public, the outlet is interesting as well – Kneale hasn't always been on great relations with business bloggers. So where will he end up? First of all, leaving the business network does not automatically mean leaving NBCU – just look at what happened with Dylan Ratigan. Or he could end up at another business network, like Bloomberg or FBN. Or, I guess, he could get his contract renewed at CNBC. Maybe his bosses will 'watch the show' this time.
—–
» Follow Steve Krakauer on Twitter
Have a tip we should know? tips@mediaite.com