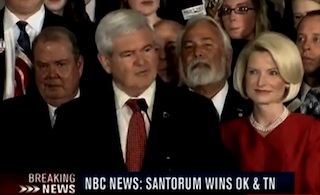 At his victory party in Georgia Tuesday night, Newt Gingrich again turned his attention to gas prices, the issue that he's staked the hail mary hopes of his campaign on. But this time, Gingrich added a little something to his pitch: a paraphrase of President Obama's answer on gas prices at a Tuesday press conference that was so broad, it became pure fiction. "I thought today, in one of the most shallow and self-serving comments by a president I've heard in a long time, he was candid in his press conference," Gingrich said. "He said, you know, I'm really worried about higher gas prices because it will make it harder for me to get re-elected. I did not make this up."
Except Gingrich kind of did make it up.
Here's what Obama actually said at this Tuesday press conference when asked about gas prices by Fox News' Ed Henry.
"Your critics on Capitol Hill have said you want gas prices to go higher, because you have said before that will ween the American people off fossil fuels and onto renewable fuels," Henry said. "How do you respond to that?"

Here's what Obama said:

"Ed, just from a political perspective, do you think the President of the United States, going into reelection, wants gas prices to go up even higher? … Is there anybody here who thinks that makes a lot of sense?"
The Obama campaign and the Gingrich campaign did not immediately respond to requests for comment.
Watch Gingrich:

Watch Obama at the press conference:






Note – this post was written by Evan McMorris-Santoro and Benjy Sarlin for Talking Points Memo and appears here via a content sharing agreement with Mediaite.
Have a tip we should know? tips@mediaite.com