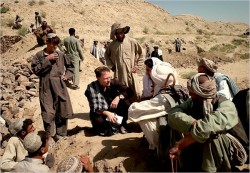 Did the New York Times pay millions to get reporter David Rohde released from Taliban custody last June? That is what former special forces veteran turned freelance journalist Michael Yon is saying via his twitter.
****
UPDATE: The NYT and David Rohde have issued this statement regarding the allegations. Per Rohde:
"As I stated in the series on our captivity, no ransom was paid in our case and no one, including our guards, helped us escape. I would never have written — and the newspaper would never have published — a five-part-series based on a lie."
***
# Kept it all quiet for NYT. Now why are the NYT endangering British hostages in Somalia? NYT needs to shut up. They are endangering British.3:59 AM Nov 1st from web

# I have been told by very close sources that ex-CIA officers helped pay off release for Rohde. I knew this while it was ongoing.3:56 AM Nov 1st from web

# NYT is endangering the hostages in Somalia.3:54 AM Nov 1st from web

# Am told by good sources Rohde is good guy, but still NYT cannot ask for discretion when they don't use it.3:53 AM Nov 1st from web

# Numerous very well placed sources have told me New York Times/associates paid millions to get Rohde release.3:52 AM Nov 1st from web

# New York Times cannot expect quiet about David Rohde when they blab all: http://www.nytimes.com/2009…3:51 AM Nov 1st from web
That's a wildly bold assertion. If it turns out there is any truth to it it directly contradicts NYT executive editor Bill Keller's assertion back in June that "no ransom was paid" and would also throw into some questionable light the five part series 'Held By The Taliban' series the Times ran in October, authored by Rohde himself.
Shortly after Rohde's release, it was reported that the only money to exchange hands were small bribes paid to Taliban security guards by a private security company with ties to the CIA, that the Times used in an effort to free Rohde.
The New York Times used a private security company with ties to the CIA to bribe Taliban guards as part of its seven month effort to gain the freedom of reporter David Rohde and two others taken hostage with him in Afghanistan, according to people involved in the case.

The bribes were reportedly paid in small amounts of only a few hundred dollars at a variety of locations where Rhode was held. It was not clear what role, if any, they may have played in Rohde's daring escape early Saturday….In a statement attributed to Keller, the paper said it would not talk about "strategy, tactics, deliberations, advice we got." Such stories, he said, "only raise the level of danger for our reporters in the field, who already have enough risk to contend with."
If there is any truth to Yon's report — and thus far it appears to be his word against the Times' (Yon is apparently displeased at the Times reporting of the Somali pirates taking a British couple hostage) — it is a very slippery slope the paper has put itself on, to put it mildly! As someone noted in June when the Times declined to discuss details: "They didn't want to turn every New York Times reporter into an ATM machine for terrorists."
(h/t NRO)
Have a tip we should know? [email protected]