Did The Sequester Create Edward Snowden?: The Unexpected Consequences Of Budget Cuts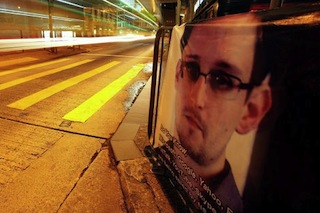 The Washington Post catches an interesting admission in its interview with Lon Snowden, father of NSA leaker Edward Snowden, in which he intimates that a sequester-induced layoff led his son to his position at Booz Allen, where he gained access to the four hard drives' worth of classified information he has been steadily revealing ever since.
"Edward has said he took his final government contracting job with Booz Allen Hamilton in Hawaii to gain access to sensitive NSA information," wrote Jerry Markon on Tuesday. "But his father said Edward told him that his previous contracting job had been eliminated because of the federal budget sequestration."
"In a parallel universe in which there was no sequester, Snowden might be just another contractor collecting checks, instead of an internationally notorious fugitive camping out in the Moscow airport," Emily Heil wrote today. "So much for those theories that the sequester had little impact."
RELATED: Snowden Says He Took Job With Booz Allen Hamilton To Gather Evidence On NSA Surveillance Programs
The timing is a bit odd: the sequestration took effect at midnight on March 1, but Snowden had already contacted Glenn Greenwald in February stating he had material of interest. However, he had been working for Dell, which had intelligence contracts with the NSA, until early 2013, so it's possible his position was in fact affected by the automatic spending cuts.
If true, the information shines a whole new light on Snowden's motives, casting him less as a quiet and determined saboteur of the national security state and more as a young man reeling from a job loss—though it would also show Snowden attempting to more actively shape his public image by claiming he took the Booz Allen job intentionally to secure classified information.
It would also provide something of an ironic outcome to the sequester. The legislative maneuver was loaded with defense budget cuts to leverage lawmakers into a compromise, so as to avoid appearing to sacrifice national security for budget priorities. It backfired when House Republicans didn't flinch at the spending reductions, happy to induce the government to operate more leanly.
But whether or not you buy the U.S. government's argument that Snowden's leaks are harmful to the country's security interests—a real version of the endgame the sequester was only supposed to threaten—the sequester's potential role in causing the leaks proves that capricious budget cuts can have consequences far beyond their impact on the federal government's bottom line, and far out of the control of the legislators who recklessly trumpet them.
Read the interview HERE, and the follow-up article HERE.
[h/t WaPo]
—
>> Follow Evan McMurry (@evanmcmurry) on Twitter
Have a tip we should know? tips@mediaite.com