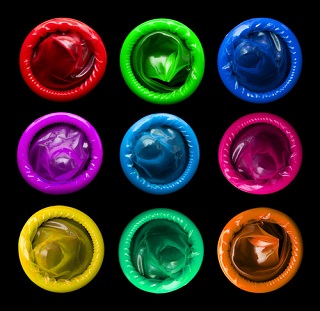 A story making the rounds on the internet today is the invention of a new kind of condom that detects sexually transmitted diseases by changing colors. These condoms, which would be a pretty spectacular innovation if real, were the creation of three middle-school-age boys in England: Daanyaal Ali, 14, Muaz Nawaz, 13, and Chirag Shah, 14. And that's what makes this just a wee bit unbelievable. If they are doing what they're supposed to do, the condoms — called S.T.Eyes — will turn "yellow for herpes, blue for syphilis, and purple for HPV."
The reason for the invention was to provide a safe and private way to test for a variety of STDs and avoid the walk of shame over to the doctor. Now that shame doesn't have to leave your bedroom and can be between the wearer of the condom and his partner.
But doesn't it seem like it's just a bit precocious for these puberty-aged kids to come up with? I guess it's possible that they could have come up with the idea in sex-ed and had a good chuckle over the idea of condoms changing color, but going by how the condoms are "currently in development" because they can't exactly detect a fluid-transmitted disease until it's too late (only a skin-to-skin disease like herpes). But also, these kids got rewarded for their invention in the UK's TeenTech Awards, winning around $1,500 in prizes and a trip to Buckingham Palace.
Are the S.T.Eyes someone else's invention? Can color-changing/disease-detecting condoms even be a thing? If it's real, it'll be great. But there's just something a little shady about it.
(h/t Think Progress)
Have a tip we should know? tips@mediaite.com