'Disgraceful and Dangerous': Twitter Unleashes on WSJ After Paper Demands Mueller Resign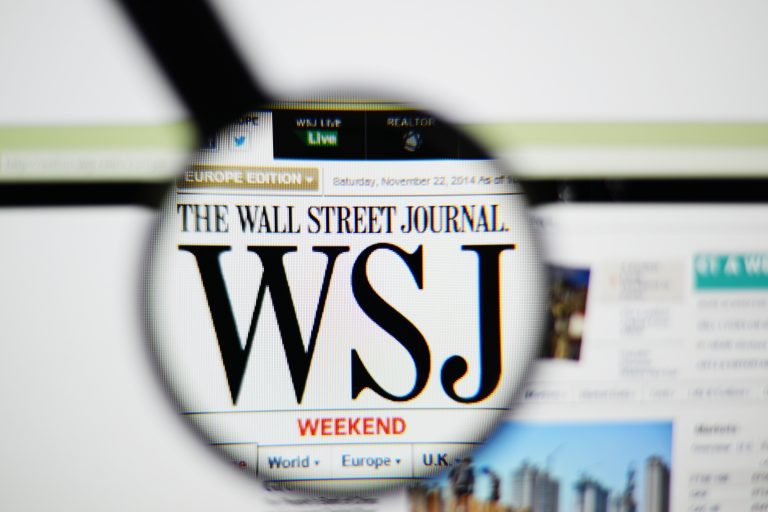 After the Wall Street Journal's editorial board published a disaster take defending President Donald Trump in regards to the Russia investigation and calling for special counsel Robert Mueller to resign, Twitter unleashed on America's best-selling newspaper.
The editorial board's justification for such a seemingly outrageous position was the recent reports showing the Clinton campaign paid to fund the infamous Trump dossier.
"Strip out the middlemen, and it appears that Democrats paid for Russians to compile wild allegations about a US presidential candidate. Did someone say 'collusion'?" Wrote the board.
The piece also declared another federal investigation looking into the Democrat Party, the FBI, and Mueller should be launched to examine their ties to Russia — instead of the current probe aimed at Trump. The writers also attacked "the dominant media narrative" on Russia's 2016 involvement by claiming that the real collusion crimes were not done by anyone associated with Trump.
After excerpts from the WSJ's editorial began circulating on Twitter, pundits, journalists, and political commentators were quick to point out that this piece — and others like it — could actually inspire the White House to fire Mueller. Additionally, many noted that editorials like this hurt the credibility and undermine the work done by all the WSJ reporters who have been investigating the Trump-Russia story.
Below are a few of the best and most insightful WSJ editorial board slams:
There are no words to describe how disgraceful and dangerous this coordinated attack against Robert Mueller is. https://t.co/7eSZYMCAFP

— Joe Scarborough (@JoeNBC) October 29, 2017
I am absolutely stunned by this.
So disgraceful.https://t.co/plGM8NFFyy

— Patrick Chovanec (@prchovanec) October 29, 2017
This propaganda machine has become so apparent it would shock Orwell. https://t.co/xvtmCYgosf

— Atticus Goldfinch (@AtticusGF) October 29, 2017
The (only) important thing about "Fire Mueller" editorial in WSJ https://t.co/V0zCwlkBJ1 is that it reveals at least tacit OK by Paul Ryan

— David Frum (@davidfrum) October 29, 2017
For the files of future historians writing the history of how democracy collapsed in the U.S. https://t.co/5xlPoCQ4vg pic.twitter.com/bJHwqsLD5W

— Lee Drutman (@leedrutman) October 29, 2017
By giving the green light for Trump to fire Mueller (b/c that is what this is), the @WSJ shifts from reactionary to full-on authoritarian https://t.co/cFyS86JD2F

— Don Moynihan (@donmoyn) October 29, 2017
#unhackthevote
Well it looks like we can save the renewal fee for the WSJ!!https://t.co/UFJqO90zVb

— MikeFarb (@mikefarb1) October 29, 2017
wonder what it feels like to be a WSJ employee right now https://t.co/qZCvesdZra

— ಠ_ಠ (@MikeIsaac) October 29, 2017
Somehow its latest Mueller stance is the thing that made everyone realize the toxicity of the WSJ editorial board?

— Alexander Kaufman (@AlexCKaufman) October 29, 2017
Must be so embarrassing for WSJ reporters to appear in the same paper with this stuff. https://t.co/I4HLZCUzDK

— Josh Marshall (@joshtpm) October 29, 2017
WSJ reporters have broken several major stories on the Russia investigation, and now see their work undermined by their own editorial page. https://t.co/ydEnbiKQ6a

— southpaw (@nycsouthpaw) October 29, 2017
I'm not surprised at the decision of the WSJ to go FULLTRUMP. I'm not even mad or sad. I am profoundly disappointed, though.

— Avi Woolf, Elitist? (@AviWoolf) October 29, 2017
Murdoch-owned Post columnist: Mueller should resign https://t.co/tUSapP7Kra Murdoch-owned WSJ: Mueller should resign https://t.co/AR7NJ8ROUs

— Jay Rosen (@jayrosen_nyu) October 29, 2017
With FOX and @WSJ circling the wagons and trying to smooth the way for firing Mueller, we're headed for a major constitutional crisis. /1 https://t.co/XXByVsELSe

— Tom Nichols (@RadioFreeTom) October 29, 2017
After @WSJ Editorial Board calls for Mueller resignation & Mueller starts indicting Trump advisors…have to think Trump's seriously considering firing him.

— ian bremmer (@ianbremmer) October 29, 2017
The @WSJ is embarrassing some very good reporters by running Breitbart editorials. https://t.co/UPx6RUDrGX

— Jon Favreau (@jonfavs) October 29, 2017
[featured image via screengrab]
Follow Caleb Ecarma on Twitter. 
Have a tip we should know? tips@mediaite.com