Disturbing Taiwanese Kitten-Hunting Animation Features Photo of Actual Skewered Kitten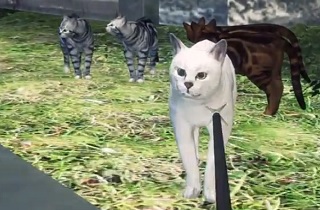 The story of a 17 year-old Indiana boy who admits to "hunting" and killing three kittens with a compound bow has caught the attention of Next Media Animation, the Taiwanese animators whose quirky news videos have become something of an online craze. In their latest, NMA tells the story of the unidentified teenager who stalked his adorable prey in the alleyways of his neighborhood, but the animated video begins with a still shot of an actual kitten with an actual arrow through its actual head. Ironically, that's the happy part of this story.
The video itself plays it fairly straight, until the climax of the clip, which could have alternately been titled "I can haz splatter!"
Nice of the other cats to give him a heads-up, huh?
The teenager in this case admitted to killing the kittens because he was "bored," and faces serious charges in juvenile court. The Facebook pictures that he uploaded of his prey have all been deleted, which begs the question "Where did NMA get the photo of that dead kitten?"
That's the happy part of the story, because the kitten at the beginning of that video isn't dead, at east not in that picture. His name is "Bow," and that arrow, which is really through his head, was successfully removed by a Michigan veterinarian:
A gray and white stray, Bow was found by a highway with an arrow sticking out of his head. After some vets removed the arrow, Bow was taken in by a local nonprofit calledCarol's Ferals and has been receiving care from kindly Dr. Bruce Langlois, who's making sure that the little guy doesn't develop an infection. Like many residents of Grand Rapids, Langlois wants to find who shot Bow and see that they're brought to justice, so he's put up the 500 bucks to see if anyone comes forward.
Also happy, but kind of a mixed bag, is this report from MLive's Troy Reimink about how cats get shot with arrows all the time, and lots of them live:
Just last week, a stray cat in Florida survived a risky transport and operationafter being shot through the chest with an arrow. The following day, a less-fortunate barn cat in Nebraska who was shot with a bow and arrow had to be put to sleep.

Earlier this year, a cat in Kansas named Theodore was shot with a bow and arrow andsurvived several days before receiving treatment, since the arrow missed major organs. A couple of weeks later, a family cat was shot and killed with a bow and arrow in Pennsylvania.

In 2009, a cat in Indiana named Brownie recovered after an operation to remove an arrow that pierced its skull in a manner eerily similar to Bow's injury. Two years earlier in Indiana, a cat named Dude survived an arrow that entered his rear and came out near his spine.
Dude? Duuuude.
It's been a few years since Bow's rescue, but here's hoping he's still doing well, and here's hoping the "brave" hunters who keep victimizing these defenseless creatures run into one of these pets some day.
Have a tip we should know? tips@mediaite.com