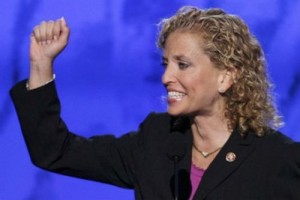 DNC Chair Debbie Wasserman Schultz responded to repeated calls from Democratic presidential candidates and vice-chairs for the party to hold more debates.
According to ABC News, Wasserman Schultz told those gathered at a breakfast hosted by the Christian Science Monitor that her decision to hold only six DNC-approved debates was final. In addition, any candidates who participated in debates beyond those sanctioned by the DNC would not be allowed to participate in sanctioned ones.
"We are going to have six debates. Period," Wasserman Schultz told those gathered in Washington on Thursday morning. "We are looking forward to our six debates that are sanctioned by the DNC."
According to Wasserman Schultz's main argument, the system of managing debates in the American political system has become quite cumbersome. To that effect, she asserted that the DNC needs "to make sure we do not let the debate process get out of control."
The DNC chair's rhetoric flew in the face of repeated calls from Democratic presidential candidate Martin O'Malley, who has gone so far as to use official platforms to advocate for additional debates. Fellow candidates Hillary Clinton and Bernie Sanders have mentioned the need for more debates recently, and some of Wasserman Schultz's vice-chairs even called her out for limiting the total number to six on Wednesday.
Despite the criticism, it seems Wasserman Schultz and the rest of the DNC's leadership is of one mind about keeping the number of debates at six.
[h/t ABC News]
[Image via screengrab]
— —
>> Follow Andrew Husband (@AndrewHusband) on Twitter
Have a tip we should know? tips@mediaite.com