Don Lemon to Mizzou Students: If You Want a Safe Space, 'Don't Leave the House'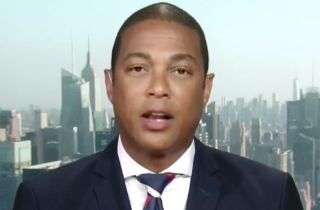 Two days after praising the University of Missouri football team for forcing out its president, CNN host Don Lemon returned to the issue to reproach Mizzou students for clashing with reporters and setting up "safe spaces" to avoid difficult conversations.
"…[T]he only issue I have with what happened at the University of Missouri is their vigorous effort to squash freedom of speech and freedom of the press," Lemon said on The Tom Joyner Morning Show. "That is a very dangerous road that no one should want to go down."
"Mizzou has one of the most well-respected journalism programs in the country," he continued. "Students there should know that in America, a country with a free and open press, that it is dangerous to deny anyone that freedom. In fact, it's un-American."
Lemon pointed out that Martin Luther King Jr. and Malcolm X didn't have any problem talking with those they disagreed with. "Why? Because they weren't afraid of confrontation; of being challenged. They weren't afraid of being offended, they weren't afraid of offending. They knew the real meaning of freedom of the press, freedom of speech and expression."
College students, he argued, "should not be coddled by retreating into so-called 'safe spaces' because they're afraid of having their feelings hurt. If you're afraid of having your feelings hurt, don't leave your house. College is the place where robust debate should be welcomed and vigorously explored."
Listen above, via The Tom Joyner Morning Show.
[Image via screengrab]
——
>>Follow Alex Griswold (@HashtagGriswold) on Twitter
Have a tip we should know? tips@mediaite.com