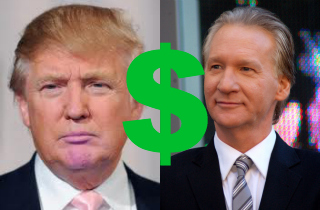 After one month spent hyping his potential lawsuit against HBO's Real Time host Bill Maher, real estate mogul Donald Trump has finally made it official, filing the lawsuit in California and issuing a statement on the matter.
While appearing on Jay Leno's late night program, Maher made an offer to Trump: release your birth certificate and prove you're not the "spawn of an orangutan," and I'll donate $5 to the charity of your choice.

Shortly thereafter, Trump released his certificate. And then began threatening to sue Maher once he figured his $5 million check wasn't coming any time soon.
The statement regarding today's official filing, obtained by NewsBusters:
DONALD J. TRUMP SUES BILL MAHER FOR CHARITY
$5 MILLION DOLLARS PROMISED TO CHARITY!

For information call Michael Cohen, EVP & Special Counsel to Donald J. Trump (212) 836-3212

Donald Trump today filed a lawsuit against talk show host Bill Maher for the $5 million dollars he committed to pay Mr. Trump for charity while being interviewed on the Jay Leno Show. Mr. Trump is hereby demanding the $5 million dollars and issued the following statement:

"I don't know whether this case will be won or lost, but I felt a major obligation to bring it on behalf of the charities listed, namely Dana-Farber Cancer Institute, American Cancer Society, Hurricane Sandy Victims, March of Dimes, and the Police Athletic League. Bill Maher made an unconditional offer while on The Jay Leno Show and I, without hesitation, accepted his offer and provided him with the appropriate documentation. Prior demands for payment went ignored by Mr. Maher despite the fact that the beneficiaries of this suit will ultimately be the charities named above, who would share equally the $5 million dollars…something I am certain they can desperately use."

The lawsuit was filed in California.
Bill Maher has yet to comment on the lawsuit.
[h/t NewsBusters]
— —
>> Follow Andrew Kirell (@AndrewKirell) on Twitter
Have a tip we should know? tips@mediaite.com