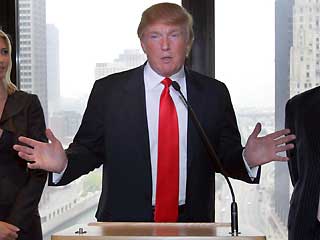 Donald Trump is a reality TV personality who was the frontrunner in national Republican polls last February. That was back when his "people in Hawaii" "couldn't believe" the stuff they were finding about the President's birth certificate, creating a national idiom ("Where did you hear that silly rumor, Donald Trump's people in Hawaii?"). Then Seth Meyers slew Trump's presidential hopes, but the ghost still haunts us today, and refuses to go away. Tomorrow, in Las Vegas, Trump has promised a "major announcement," on pertaining to the Republican race.
RELATED: Donald Trump To Fox News: I Have My 'Ducks In A Row' For Third Party Run

The Little Combover that Could tweeted today that he will be in Nevada to make a "major announcement," "all media welcome" (obviously). According to The Hill:
"I will be making a major announcement tomorrow (Thursday, February 2) at 12:30 pm at Trump International Hotel & Tower, Las Vegas, Nevada," Trump tweeted on Wednesday. "I will be arriving this evening at approximately 11:30 pm. The announcement will pertain to the Presidential race. All media welcome."
He has threatened to endorse several times and done nothing, leaving the media to coddle its broken heart every time, so no word on whether hosting yet another ridiculous "Donald Trump has political relevance" event on Groundhog Day is an intentional joke or not (maybe Bill Murray will make a cameo appearance?). Also no word on whether he is going to say anything of consequence, or try the Herman Cain/Time Magazine approach of endorsing everything/everyone. Or maybe Trump will pull a fast one on us and endorse Stephen Colbert, announcing a "huge" donation to Americans For A Better Tomorrow, Tomorrow. Who knows! Either way, the fact that Donald Trump's "major announcements" are still happening a year after the expiration date on his political relevance passed is a stark yet entirely unclear statement on the state of American politics today.
UPDATE: Politico is reporting that the "major announcement" is an endorsement of Newt Gingrich, according to several sources that have confirmed it to the publication. Adjust your calendars accordingly!
Have a tip we should know? [email protected]