Donald Trump Wants You to #AskTrump Questions on Twitter — Probably a Bad Idea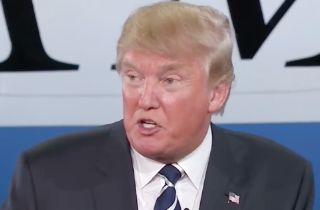 Donald Trump will be taking questions this afternoon from you, the tweeter at Twitter's offices in New York City. The GOP presidential candidate announced the Q&A with the hashtag #AskTrump, and invited everyone on the social media website to send him their burning political questions.
This is obviously a very, very bad idea.
As Bill Cosby's famous #CosbyMeme Twitter challenge proved last November, whenever a polarizing figure attempts to use social media for some kind of promotional stunt, social media will most assuredly bite back. And this is Trump we're talking about, so of course it's going to be bad.
So despite otherwise intelligent warnings advising against it, we decided to take a peak at the #AskTrump hashtag and see what folks are asking the Donald about.
Some are actually serious, and will most likely make it to the the next level:
.@TwitterNYC so are you a feminist #AskTrump https://t.co/2feW1eGlyB

— Alexis Isabel (@lexi4prez) September 21, 2015
Are you willing to say, publicly and explicitly, that discrimination against Muslim Americans is unacceptable? #AskTrump

— Saladin Ahmed (@saladinahmed) September 21, 2015
Others are outright condescending:
Math question: If you have four casinos & one has 48 slot machines, but another has 50, how many times will you file Chapter 11? #AskTrump

— Matthew (@Matthops82) September 21, 2015
Your wife Melania immigrated from Slovenia but didn't become a US citizen until she'd been her 20 yrs. why wasn't she deported? #AskTrump

— Franchesca Ramsey (@chescaleigh) September 21, 2015
Can you point out Benghazi on a map? #AskTrump https://t.co/nwH2skY6SC

— RUSS BENGT$ON (@russbengtson) September 21, 2015
Donald, what's good? #AskTrump

— Dub Pool (@dubpool) September 21, 2015
Is it true that if you say Donald Trump 3 times in the bathroom mirror, the hair in the drain will rise up to shout racial slurs? #AskTrump

— P a t r i c k (@ruinedbyreality) September 21, 2015
Most, however, are not serious at all:
.@realDonaldTrump @TwitterNYC Are you secretly just the greatest performance artist the modern age has ever seen? #askTrump

— Aude White (@audevwhite) September 21, 2015
#AskTrump
I have to ask, does it hurt when you pee?

Your expressions make you look like it hurts when you pee.

— Ignoble Savage (@drayzze) September 21, 2015
Hey @realDonaldTrump, do you think Jon Hamm really deserved his #Emmy win? #AskTrump

— Andrew Husband (@AndrewHusband) September 21, 2015
Let in the country or not? #AskTrump pic.twitter.com/Pv5GGSh0Vi

— Jeremy Newberger (@jeremynewberger) September 21, 2015
#AskTrump Is Pluto a planet, or a mere planetoid / Kuiper Belt Object?

Or a dog owned by a mouse?

Or a pagan god? https://t.co/xiY2DtD7nC

— Popehat (@Popehat) September 21, 2015
#AskTrump Would you touch a poop for $20? https://t.co/xiY2DtD7nC

— Popehat (@Popehat) September 21, 2015
When you say you want to "Make America Great Again," do you really mean you want to breastfeed @JebBush? #AskTrump https://t.co/wliMmfbjK2

— rob delaney (@robdelaney) September 21, 2015
More than a few people are questioning Trump's latest PR stunt:
Trump really picked the wrong day to do this #AskTrump session on Twitter.

— BlackGirlNerds (@BlackGirlNerds) September 21, 2015
People never learn from history. Don't try invade Russia in the winter. Don't do a twitter Q&A if you are a prick. #AskTrump

— Claire Mas (@MasMusicMadness) September 21, 2015
Donald Trump's social media team reading #AskTrump pic.twitter.com/wrIJ5NcNVb

— My Daughter's Army (@mydaughtersarmy) September 21, 2015
[Image via screengrab/Twitter]
— —
>> Follow Andrew Husband (@AndrewHusband) on Twitter
Have a tip we should know? [email protected]