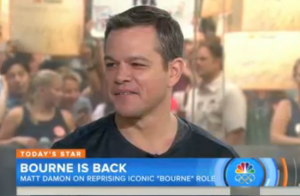 Finally, after an almost ten year hiatus, Matt Damon will be Jason Bourne again. Jason Bourne, the fifth movie in the series (Damon was not in the fourth film The Bourne Legacy) comes out tomorrow and in advance of the release Damon appeared on NBC's Today with Hoda Kotb to talk about the movie and what's next for him.
The last time Damon played Bourne was in 2007, and he admitted it wasn't easy to get back into the role. "I'm 45," he said. "I started doing these I was 29. All that stuff came a lot easier," he said referring to the physical nature of the role, noting he had to "suffer to get back into shape." But overall, he's grateful, and he said it's "humbling" to be giving his fans something they obviously want very badly. "I've certainly made a lot of movies that nobody went to see, so when you have a loyal audience that's asking for something, at a certain point we looked at each other and said let's get off our high horse and do it."
Damon says he's been working a lot though, and that he's excited to take some time off- a full year. He made four movies right in a row and he has another one coming. He's moved his family all around the world including spending half a year in China and says he's "excited to finish out this year of work and take a year off and be at their behest for once."
Watch the video above, via NBC.
Follow Dana Eisenberg on Twitter.
Have a tip we should know? tips@mediaite.com