Dr. Jill Stein Returns Fire Against John Oliver For 'Disingenuous, Hypocritical Attack'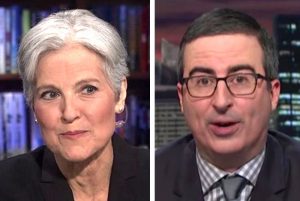 On Sunday night, Last Week Tonight host John Oliver devoted his lengthy deep-dive segment to taking on the third-party candidates occupying space in the 2016 race: Libertarian party candidate Gary Johnson and Dr. Jill Stein of the Green Party. Oliver evaluated each candidate on the premises of relevancy and ideas, with each campaign undoubtedly spurred on by the lack in interest in each of the major party offerings. But regardless of the objective examination, Oliver drew this conclusion: both Johnson and Stein are offering solutions that "crumble under the slightest scrutiny."
It was Stein's proposal of canceling out student debt and predatory school loans in this country — the same way the government bailed out Wall Street — that has been a cornerstone of her campaigning efforts. But, Oliver chalked it up to little more than "strategic vagueness." He continued joking, "When I said [Jill Stein's] student debt proposal was her version of Donald Trump's border wall, I meant it. Because the only way it could be more unlikely is if she claimed Mexico was somehow going to pay for it."
Enter Stein.
The Green Party candidate issued a scathing statement in response to Oliver's segment, which, like all of his Last Week Tonight desk pieces, carries with it immense power of viral growth and visibility. Stein wrote, "We were pleasantly surprised when John Oliver's research team reached out to us regarding several statements that have been frequently taken out of context to ask if we felt they were missing any context, which we promptly provided. It was beyond disappointing to see that our responses were completely ignored."
The Stein/Baraka campaign asserts that John Oliver and his researchers "singled out" student debt as the sole issue of focus, and did not even represent it properly on the show. "Oliver simply ignored the fact that we had other proposals to cancel student debt on the table," she blasted.
The campaign even managed a few well-placed swipes at the comedian as well. "Coming from someone who made a stunt of buying and canceling medical debt on his show, and who claims to want alternatives to the failed two-party system, this disingenuous attack on the idea of cancelling student debt is both puzzling and hypocritical," she writes, referencing a well-known prior segment of Oliver's that examined accruing medical debt.
"Canceling $1.3 trillion in predatory student debt is a top priority for the Stein/Baraka campaign," the statement continues.
Mr. Aleppo Gary Johnson has not responded to the Oliver segment. Knowing the cadence of Last Week Tonight, the writers are already busy firing off a response to Stein for their next episode, which will presumably also include some takedown of tonight's presidential debate in Las Vegas.
Just 20 days to go… isn't this fun?
—
J.D. Durkin (@jiveDurkey) is an editorial producer and columnist at Mediaite.
Have a tip we should know? tips@mediaite.com