During Press Conference in Orlando, CNN Smartly Cycles Photos of Victims in Top Corner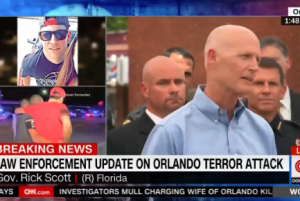 Since a shooter terrorized a gay nightclub in Orlando on Sunday morning, killing 49 and wounding 53, the news has been focused on very little else, and quite rightly. Details about the shooter, about the attack, about the club itself, about ISIS, and about gun control have been hammered and hammered as the country tries to make sense of the attack.
CNN, like its contemporaries and competitors, has been diligently covering the event, but some of their coverage has stood out. Their Snapchat has been making need-to-know information accessible to new demographics. One of their top reporters, Anderson Cooper, himself openly gay, has been outwardly showing his emotions.
What they did today, though, sets them apart from the other networks in a major way. As mentioned, all sorts of details about religion, guns, terrorism, and politics has been being dissected for four days. At the center of this case, though, are the 49 lives that were lost, which is easy to forget when focusing on the broader issues of gun control or the words "radical Islam."
CNN didn't forget.
Today, during a press conference that included local politicians, CNN ran photos of the victims in the top left corner of the screen. Governor Rick Scott spoke, which you can see in the video above. The photos continued to loop during the speeches from Orlando's mayor, Buddy Dyer, and Orange County's mayor, Teresa Jacobs, as well as the final statements from the FBI's Ron Hopper.
Saying the names of the victims and posting their pictures is a commendable way to honor them. The Orlando Sentinel has the full list of victims and includes bios. You can see it here and donate right here.
[image via screengrab]
For more from Lindsey, try Twitter or Facebook.
Have a tip we should know? tips@mediaite.com