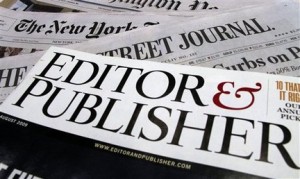 The long running newspaper trade Editor & Publisher might have to change its name Editor v. Publisher: FishbowlNY reports that the journal's publisher Duncan McIntosh has fired editor Mark Fitzgerald, managing editor Shawn Moynihan and senior editor Jim Rosenberg, citing the desire for a new yet "unspecified" editorial direction. All three editors were reportedly fired by e-mail and without "clear explanation."
Below is Fitzgerald's farewell email (h/t FishbowlNY):
Dear Colleagues,

I have been fired as editor of Editor & Publisher along with what remained of our editorial staff, Managing Editor Shawn Moynihan and Senior Editor Jim Rosenberg. Some of us were told the Duncan McIntosh Co., owner of E&P since January, want to take it in an unspecified "other direction editorially."

A company memo announcing our firings said, "Editor & Publisher magazine will be utilizing more individuals for the print edition who are experts in their individual fields as opposed to reporters who track down experts and put the expert's story into the writer's words."

I'm proud of my 26 years of service to E&P, but especially of the work our team produced during the last 10 months. E&P's website remained an authoritative destination for industry information and commentary, its business-oriented blog combined sharp and often humorous commentary with a more granular report on financial developments, and the print magazine was an even more vital source of actionable information.

It is a tribute to the work that we did that so many respected industry figures wanted to contribute to our pages, a wide range that included CEOs such as Journal Register Co.'s John Paton and Stephens Media's Sherman Frederick; Newspaper Guild chief Bernie Lunzer; media economist Robert Picard; New Media experts Ken Doctor and Alan Mutter, who wrote our monthly Reflections of a Newsosaur column; and a host of respected journalists including Debra Gersh Hernandez, David Milstead, P.J. Bednarsky and O. Ricardo Pimentel.

I'm very thankful, too, for all of your support of E&P and me over the years. Ours is a fascinating industry and never more so than in these rocky times.

Best,
Mark
As for who will be steering the publication toward this "other direction editorially," the E&P online masthead now lists Jeff Fleming as and Kristina Achermann in Fitzgerald and Moynihan's old positions and Deena Higgs Nenad as Associate Editor.
Have a tip we should know? tips@mediaite.com