Edward Snowden Hopes For a 'Moral' Pardon From Obama: 'I Think I Will End Up Back Home'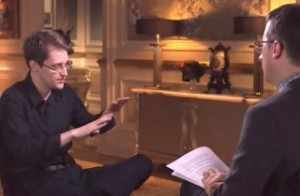 With just days to go until the release of the new Oliver Stone-directed film about his life, Edward Snowden admits that he's not one to put a lot of stock into the glitz of Hollywood. "I've always been a little bit allergic to media," he adds.
Snowden, the former NSA whistleblower who has been in exile since 2013, spoke at length with The Guardian about his chances at receiving a pardon from President Barack Obama at the end of the presidency. Snowden, a computer systems administrator who leaked top-secret information after fleeing to Hong Kong, has been in Russia ever since.
"What we're seeing is a conversation about the war on whistleblowers that's been occurring easily for the last decade, but of course has escalated under the most recent President who has brought more charges against whistlers than all other presidents combined," he said of the Obama administration. "If not for these revelations, we would be worse off," continued Snowden.
There's no denying that Snowden broke the law; federal prosecutors filed a criminal complaint against the then-30-year-old in 2013 under conditions outlined by the 1917 Espionage Act. He was charged at the time with "unauthorized communication of national defense information" and "willful communication of classified communications intelligence information to an unauthorized person."
The issue on the table now, however, is what President Obama may or may not decide to do before vacating the White House.
"Yes, there are laws on the books that say one thing, but that is perhaps why the pardon power exists," Snowden told The Guardian. "…for the exceptions, for the things that may seem unlawful in letters on a page but when we look at them morally, when we look at them ethically, when we look at the results, it seems obvious that these were necessary things, these were vital things."
Snowden, the titular film that stars Joseph Gordon-Levitt as Snowden and Zachary Quinto as Glenn Greenwald, opens later this week, and is expected to bow to highly-anticipated fanfare and could be a pivotal piece of art that helps sway the court of public opinion. The film is set to debut just months after former Attorney General Eric Holder — who two years ago sharply said of Snowden, "I think that he has to be held accountable for his actions," — admitted that Snowden's actions provided a "…public service by raising the debate that we engaged in."
"I'm willing to make a lot of sacrifices for my country, I think that's clear since I've lived in exile for the last three years," Snowden continued Monday. He is confident that he will eventually be allowed to return to the United States, saying, "In the fullness of time, I think I will end up back home."
—
[h/t The Guardian]
Have a tip we should know? tips@mediaite.com