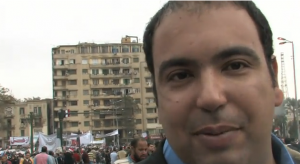 Egyptian blogger "Sandmonkey" – who, pre-revolution, blogged anonymously given writers could face prison time for their online content (as was the case with fellow blogger Kareem Amer) – has finally revealed his identity.
His blog, Rantings of a Sandmonkey (that the header features Johnny Bravo is reason enough to bookmark it, really), espoused pro-democratic ideals that could very well have landed him in hot water with Hosni Mubarak's government. In fact, the blogger previously ignored requests for an interview with PBS MediaShift writer Jaron Gilinsky… that is, until he was, he says, badly beaten by state police while delivering medical supplies to Tahrir Square. He reached out to Gilinsky, using the name "Sam Adam," and eventually the two met for an interview, Sandmonkey/Adam apparently being inspired by his attack to "seek justice for his assailants."
As it turns out, the blogger's real name is actually Mahmoud Salem. On February 4th, he appeared on CNN's Parker Spitzer, where he was introduced as a twenty-nine year old who "grew up in Egypt and graduated from Northeastern University in Boston," and discussed those who had helped spread the word about Egypt's uprising, specifically calling out Google marketing executive Wael Ghonim, who was himself abducted for a time for his role in the protests.
Here's his interview with Gilinsky, via MediaShift, wherein he discusses his motivation for coming forward, as well as the controversial nature of his blog name / alias. He recounts how those who accosted him accused him of being American and Zionist, the attack feeling "like a zombie movie." :
h/t PBS MediaShift
Have a tip we should know? tips@mediaite.com