Eric Cantor Cancels Income Inequality Speech When UPenn Can't Guarantee 'Selected Audience'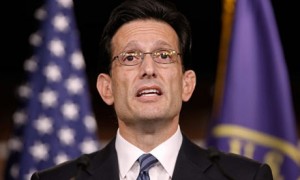 House Majority Leader Eric Cantor abruptly canceled a speech at the University of Pennsylvania's Wharton Business School because the University couldn't guarantee the "selected audience" that had previously been agreed upon, according to several reports. According to Cantor's office, the speech was originally restricted to media, students, and faculty, but UPenn decided to open the speech up to the first 300 people to show up. The University says the speech was always open to the public.
Cantor's office issued this statement to The Daily Pennsylvanian:
"The Office of the Majority Leader was informed last night by Capitol Police that the University of Pennsylvania was unable to ensure that the attendance policy previously agreed to could be met," wrote Cantor spokeswoman Laena Fallon. "Wharton is a educational leader in innovation and entrepreneurship, and the Majority Leader appreciated the invitation to speak with the students, faculty, alumni, and other members of the UPENN community."
But according to the school, the event was always supposed to be open to the public:
Penn spokesman Ron Ozio said in a statement that Wharton's speaker series "is typically open to the general public, and that is how the event with Majority Leader Cantor was billed. We very much regret if there was any misunderstanding with the Majority Leader's office on the staging of his presentation."

The statement also said that "Wharton deeply regrets that the event […] has been cancelled. The University community was looking forward to hearing Majority Leader Cantor's comments on important public issues, and we hope there will be another opportunity for him to speak on campus."
However the tick-tock for the cancellation of Cantor's speech, the text of which you can read here, went down, the presence of Occupy Philly, Philadelphia's version of the Occupy Wall Street protests, was almost certainly a determining factor, with CNN even saying that the cancellation came "amid reports that U.Penn was working w/Occupy protesters."
Canceling a speech because it's open to the public is, superficially, horrible optics, especially when the subject of the speech is income inequality. While Cantor might have rightly expected a feisty audience if he proceeded, it would also be an audience that cared deeply about the subject, and an opportunity to win converts.
However, Cantor has previously decried the Occupy protesters as a "mob" that he's "worried about," so it's also reasonable for him to expect he might not get a fair hearing from such an audience.
Cantor's cancellation is also part of a larger pattern of Republican lawmakers making apparent efforts to avoid open forums with constituents during recent congressional recesses.
Have a tip we should know? tips@mediaite.com