ESPN Dumps Old Dog Kobe in Favor of Young Pup Curry for Decisive NBA Final Night Broadcast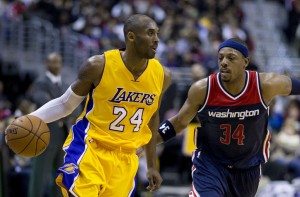 This was probably not the way that Kobe Bryant had expected to go out.
The 20 year veteran will play his final career game tomorrow night at home at the Staples Center in front of his home Los Angeles crowd — the only fan base the legendary American athlete has ever called home. However, media giant ESPN — which had always planned to cover the final broadcast of Bryant's historic career — has decided to bump the game to ESPN2 and replace it with the potentially record-setting Golden State Warriors game.
It's a decision that backseats the 37-year old Bryant and his 16-65 Lakers in favor of 28-year-old phenom Steph Curry, as his Warriors go for their 73rd win of the NBA season. If Golden State, who has only lost nine games all season, can hold off the Memphis Grizzlies Wednesday, they will snap the 20-year record set by Michael Jordan and the dominant Chicago Bulls: 72 wins.
For Kobe Bryant however, it spells a disappointing end to his career capitalized by a media goliath that needs to look to the future of its brand and gently nudge aside the outgoing legend. Though Bryant is still averaging 16.9 points a game this season, he has decided to call it quits after five NBA Championships, 18 All-Star appearances, two NBA Finals MVPs, and one prom date with Brandy.
Bryant has already announced that he has removed himself from consideration to join Team USA for this summer's Rio Olympics as well, meaning that Wednesday's broadcast is truly the last glimpse of the Lower Merion star's career for the public to see.
According to AdWeek's Tim Baysinger, one need not look any further than the buying power of the 2016 Warriors to understand the move. He writes, "Three of ESPN's four most-watched games this season—all on ABC—featured the Warriors. Turner meanwhile, averaged 2.5 million viewers for its Warriors telecasts, 39 percent higher than last season. NBA TV's national broadcast of the Warriors' win over the San Antonio Spurs on Monday—the channel was made free that night—drew a network record 2.6 million viewers."
Including tomorrow night's game against Memphis, all seven of Golden State's final games will have earned national viewing status. "The league was tremendously flexible with us to continue to chase this story," said ESPN vp of programming Julie Sobieski. "Golden State's been a story that we and the whole industry have been paying attention to since November… to have it actually culminate in this way on the last day of the regular season is tremendous."
As electric a player that Curry is, he is many years from proving if his career will live up to that of the aging Los Angeles superstar who is retiring third all-time in league scoring. The decision by ESPN to bump the broadcast is an unceremonious reminder that the ratings chase for the almighty dollar will trump even the sport's greatest, less-brandable legacies on their way out to pasture. Don't let the door hit you on the way out — oh, and what channel is ESPN on? There's a game tomorrow I really can't miss.
—
J.D. Durkin (@jiveDurkey) is a columnist at Mediaite.
[h/t AdWeek]
[image via Flickr]
This is an opinion piece. The views expressed in this article are those of just the author.