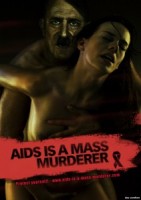 Everyone was stunned at the tactlessness of the World Wildlife Fund ad (which turns out to have run at least once) depicting an apocalyptic September 11th scene, but that's practically "Time to Make the Donuts" compared with this new print ad/video combo that compares AIDS to Hitler. In one of the most twisted equations we can think of, the copy on the ad reads "AIDS is a Mass Murderer" in ominous all caps under a groping mid-coitus Hitler and includes the demand "Protect Yourself!" before linking to Aids-is-a-Mass-Murderer.com.
A graphic video spot (below, NSFW) features a live action sex scene between an unsuspecting woman and a man resembling Adolf Hitler and features an identical message after a menacing shot of the male lead. The advertisements each bear the mark of German ad agency Das Comitee.
The Ads of the World graphics archive has other versions of the photo featuring Joseph Stalin and Saddam Hussein, and ties the entire campaign to World AIDS Day 2009. MediaBistro's Agency Spy, though, has reached out to the awareness group whose spokesman denied responsibility and condemned the ad:
"This advert has absolutely nothing to do with us or World AIDS Day campaigns in the UK (which we coordinate). Nor does it have anything to do with World AIDS Campaign who coordinate intertional campaigns and this year are focusing on human rights of people living with HIV.

Of course there are many HIV organisations that run there own campaigns, but I would be deeply shocked if it was planned by an official HIV organisation. I think the advert is incredibly stigmatising to people living with HIV who already face incredible amounts of stigma and discrimination throughout the world. On top of this it fails to provide any kind of actual prevention message (e.g. use a condom)."
Further investigation by MediaBistro traces the entire insensitive stunt to stopaids.de who maintain that the ads are "designed to shake people up." And it seems that boorish false equivalence are the quickest way to that end, while the intellectually lazy "Everything Bad is Hitler" meme lives on.
Again, the embedded video ad is not safe for work:
Have a tip we should know? [email protected]