Ex-Breitbart Editor Ben Shapiro Calls Site a 'Feces Tornado' Over 'Renegade Jew' Headline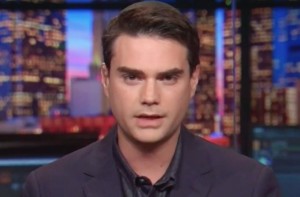 Ben Shapiro left Breitbart in the midst of the Michelle Fields controversy because he felt the site had seriously lost its way, and seeing the site run a "renegade Jew" headline only further confirmed his belief today.
Just to recap: Breitbart ran a piece with "RENEGADE JEW" highlighted in the title of a post from David Horowitz criticizing Bill Kristol and others opposed to Donald Trump by saying that weakening "the only party that stands between the Jews and their annihilation… is a political miscalculation so great and a betrayal so profound as to not be easily forgiven," and he invoked Kristol's Judaism.
Shapiro was blunt in his assessment:
Only "renegade Jews" don't back an authoritarian who won't take moral sides with Israel and flirts with the Nazi-cheering alt-right and KKK.

— Ben Shapiro (@benshapiro) May 16, 2016
My God, Breitbart has become such a feces tornado.

— Ben Shapiro (@benshapiro) May 16, 2016
In a piece for his site, The Daily Wire, Shapiro writes that he was surprised to see Horowitz––someone he considers "mentor and a friend"––to produce such "garbage," but he said it was completely "unsurprising" to see Breitbart run with it.
Shapiro makes it clear just how committed he is, as an American and an Orthodox Jew, to the state of Israel and "calling out Jews who have stood with anti-Israel tripe."
Even though he calls Hillary Clinton "a terror for Israel and Jews," Shapiro completely rejects the suggestion that any Jew who doesn't back The Donald is "renegade."
But it's the downward spiral of his former employer that really got Shapiro going:
Since my departure, they've become something far worse than Trump's Pravda – they've become a cite that openly panders to alt-right anti-Semitism and soft white supremacism (as Milo [Yiannopoulos] assures us, "There are many things that separate the alternative right from old-school racist skinheads (to whom they are often idiotically compared), but one thing stands out above all else: intelligence"). This began in the pro-Trump comment section at Breitbart while I was there; now, it's filtered up…

David Horowitz throwing out the term "renegade Jew" to describe those Jews who oppose Trump on pro-Israel and conservative grounds is bad enough; Breitbart using such language in order to drive the septic-system segment of its base is worse.
[image via screengrab]
— —
Follow Josh Feldman on Twitter: @feldmaniac
Have a tip we should know? tips@mediaite.com
Josh Feldman - Senior Editor