Ex-CIA Official: Bad Idea Letting Russian Media And 'All Their Equipment' Into Oval Office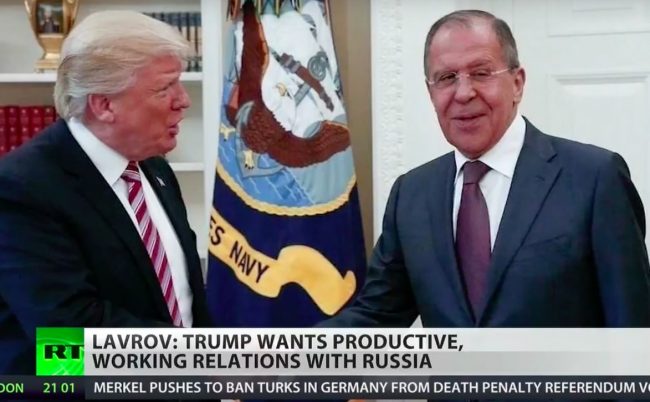 Yesterday may very well have been the single most bizarre day of the Donald Trump presidency.
He fired James Comey. Democrats, who once called for his ouster then called it treason and demanded a special prosecutor. On the same day, Trump met with the Russian ambassador — yes him — and foreign minister in the Oval Office — and Henry Kissinger was somewhere in there too yesterday.
It was a nuts day.
Now, however, a former Deputy Director of the CIA is blasting the decision to allow the Russians, complete with a state camera photographer and equipment, into the Oval Office.
It all went down on Twitter yesterday when Colin H. Kahl, the former national security adviser to Vice President Joe Biden, bluntly asked the question, which he called "deadly serious."
Deadly serious Q: Was it a good idea to let a Russian gov photographer & all their equipment into the Oval Office? https://t.co/6WA4NxHxID

— Colin Kahl (@ColinKahl) May 10, 2017
Kahl received a response from David S. Cohen, the Obama era CIA deputy chief. The answer was succinct. No.
@ColinKahl No, it was not.

— David S. Cohen (@cohendavid) May 10, 2017
The clear implication of the exchange was the security concerns posed by having such equipment by senior officials from a hostile foreign power. Kahl elaborated in a pair of subsequent Tweets.
I couldn't let foreign delegations bring phones/cameras into my EEOB office, yet Trump let Russian gov photographer+equipment into the Oval.

— Colin Kahl (@ColinKahl) May 10, 2017
I was in the Oval daily. Had to leave phone/camera outside. Apparently that doesn't apply to Russ Gov in this WH. https://t.co/nQsFBECIVm

— Colin Kahl (@ColinKahl) May 10, 2017
[image via screengrab]
Have a tip we should know? tips@mediaite.com