Get to Know CNN's Brianna Keilar, the Anchor Behind Some of the Election's Biggest Moments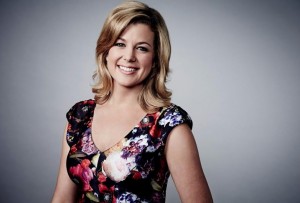 If you spend a lot of time on Mediaite, Brianna Keilar's name is probably familiar to you, especially if you've been here in the last few weeks. As a fill-in anchor at CNN, she's gotten to appear in quite a few time slots recently, many of which included segments that provided Mediaite-worthy moments. Since she's the senior political correspondent and follows Hillary Clinton's campaign, too, she's got a lot going on, but that never stops her from asking really tough questions, so we thought we'd flip the script, ask her a few, and find out a little more about the woman who has been killing it day in and day out at CNN.
Of course, you probably associate her with the now-infamous "Says who?" moment that happened when Michael Cohen demanded to know who was claiming Donald Trump was down in the polls. Keilar calmly responded, "The polls. All of them," and the rest is history.  When asked about that, she revealed that when she brought up the poll numbers that he took umbrage at, she'd really just been trying to segue into a discussion on the recent Donald Trump campaign shakeup, but he derailed the whole conversation and never let her get to her point. 
She said in the moment, she felt surprised but really did try to answer him honestly. She explained it like this:
I wondered, "Why is he asking me this? It doesn't look good for his boss!" … It was a sincere moment. I was surprised and incredulous and perplexed. It was sincere on my part, just to answer his question.
In the moment, she wasn't expecting it to get as much traction as it did, but by the time the commercial break slated for the middle of his interview rolled around, her phone was blowing up and she knew that her feeling that what had happened was "outside of a typical interview" had been spot-on.
She's been a part of plenty of rough interviews before, of course. As mentioned, she pulls no punches. When asked about her interview style, she said it was something that partially developed over time and attributed some of it to the way she incorporates reporting skills from earlier in her career. She explained that written reporting is almost informal in the way interviews are conducted, whereas television interviews are more formal. Adding in the more relaxed elements and leaving plenty of room for interaction is how she gets her guests to open up. It also can't hurt that she describes her workplace as one where she and her colleagues are "empowered to get to the bottom of things."
Not every anchor in the industry is working at CNN or in a similar environment, of course. Lately, conversations about sexism in broadcast news have been rampant, but Keilar explained that she has never had an experience where she felt demeaned on account of or held back by her gender. Well, she said, "Either I missed it or I just didn't care!"
The one thing that is impossible to miss this election season is the public's newfound interest in the press, which isn't necessarily positive. Keilar said she has definitely noticed the "increased scrutiny of the media," especially by fans of Trump and Bernie Sanders. On that topic, she said:
You're getting people saying you're in the bag for one or the other [but] … whoever you're talking to, if they're saying something that isn't measuring up, if it's not supported by the facts, you have to ask those questions. That's important on both sides.
Still, she added that she thinks voters' and consumers' focus on the media is "okay," saying that being held accountable is a good thing. After all, she reminded us, she and her colleagues strive for objectivity.
Considering that she has hit people from both sides of the aisle with equally strong questions, it looks like she practices what she preaches on that one.
[image and video via CNN]
Follow Lindsey on Twitter or even on Facebook!
This is an opinion piece. The views expressed in this article are those of just the author.