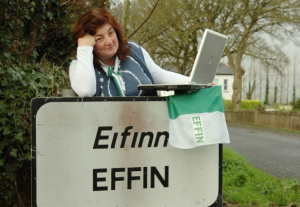 Effin ain't easy. When a woman from the Irish town of Effin attempted to add her hometown to her Facebook profile, she discovered that the social networking site refused to acknowledge her place of birth simply because it sounds strikingly similar to a certain curse word.
Now, that ineffable woman, Ann Marie Kennedy, is launching a Facebook campaign to try and give Effin the online acknowledgment it so richly deserves:
"I'm a proud Effin woman," said Kennedy, who is keen to connect with former residents.
RELATED: Bob Beckel Calls 'Bullsh*t' On Eric Bolling's Herman Cain Conspiracy Theories
The Washington Post's report on the matter notes that the British Isles are home to quite a number of colorfully-named locales, among them "Crapstone, Slack Bottom, Golden Balls, Knob Field, Badgers Mount, Penistone, Foulridge and Ugley," the last three of which are available as options on Facebook.
An ongoing discussion on the "My HOMETOWN is not listed, is yours?" board reveals that other towns, from Putaruru, NZ (this one's probably more obvious to Spanish speakers) to Mosfellsbær, Iceland have residents clamoring to be included.
Kennedy had attempted to launch a Facebook group named "Facebook, Please recognise Effin, Co. Limerick as my Hometown," but saw her group rejected until she removed "Facebook" from its title.
So let us wish Kennedy well, and leave with this:
"I play on the Effin badminton team and am directing 'Effin Cinderella,' " she said, referring to a pantomime play, a popular art form here during the holiday season.
h/t Washington Post and VR-Zone
Have a tip we should know? tips@mediaite.com