Desperately Seeking Attention? Greta Van Susteren Attacks Mediaite Over Ratings Coverage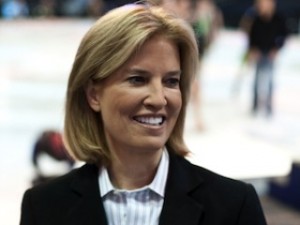 Early Saturday morning, Fox News anchor Greta Van Susteren was not happy with Mediaite. She took to her blog to make all sorts of wild accusations, suggesting that Mediaite is "getting paid by CNN" or that perhaps our ratings story on Anderson Cooper's show Thursday night was simply a "drunken Christmas Party" mishap. At the heart of her argument was the fact that she beats Cooper regularly in the ratings, and that the post chose to focus on Cooper instead of her.
"There must be something cozy going between Mediate's reporter and CNN," Van Susteren wrote, misspelling Mediaite (as many do). "It is just too weird." Weird? Isn't it weirder that a prime time cable news anchor is accusing a fellow journalist, without a scintilla of evidence to support her theory, of corruption, or — even worse — of blotto blogging?
First, the obvious: her program beats Cooper's in every accepted ratings measure. So, according to Van Susteren's reasoning, that must be the the headline every night or there is some sort of collusion on our part. But what's even sadder for her journalistic credibility is that she ignored several footnotes and qualifiers about how Fox News regularly wins the ratings. She took the story completely out of context and did so with an almost purposeful ignorance. She also shows herself to be not much of a team player since the story also pointed out that FNC's Red Eye, which airs at 3 a.m., bested prime time shows on CNN and MSNBC.
In fact, looking at our most recent ratings stories, Van Susteren's theory that CNN gets some sort of special treatment is quickly eviscerated.
HEADLINE: Lawrence O'Donnell (MSNBC) is up. NUGGETS: Nancy Grace has a good night, Bill O'Reilly (FNC) is strong, Mike Huckabee's (FNC) GOP Forum had great ratings.
HEADLINE: Piers Morgan wins the CNN slate. NUGGETS: Red Eye beat every non-FNC program in the demo, O'Donnell was the highest MSNBC show, Van Susteren finished a relatively-high third on her network, Joy Behar had the best ratings on HLN.
HEADLINE: Re-Airs rule the night. NUGGETS: MSNBC had a strong night overall, HLN's Special Report had miserable numbers.
HEADLINE: CNN's debate gives them a win; Cooper benefits from lead-in. NUGGETS: HLN had a bad night, Rachel Maddow had the highest-rated MSNBC show, Joy Behar had the lowest-rated show in the demo.
HEADLINE: Fox News and MSNBC dominate the night. NUGGETS: Maddow inches close to beating O'Reilly's repeat, only three HLN shows posted six-digits in the demo, John King (CNN) dipped below six figures in the demo.
HEADLINE: Joy Behar has a great night. NUGGETS: Ed Schultz and Maddow came close to the million-viewer mark in overall ratings, Nancy Grace was again strong, Maddow gets close to O'Reilly's repeat.
If Van Susteren decided to do any research on the series of ratings stories, she would have also discovered that more than one recent story led with the ratings prowess of Fox News' The Five. And we haven't been shy in praising the high numbers of FNC. On November 14, we even commented on how unfair it seemed that O'Reilly was having Diane Sawyer on as a guest instead of Van Susteren. Less than a month ago, we had Van Susteren's back, in a standalone post.
Just as a quick primer for Ms. Van Susteren, we are covering news, as in, what is "new." The daily ratings stories, if they were to just comment on who wins the numbers every night, would be a broken record of "Fox News Wins Again!" headlines. So we dig deeper into the numbers and pick out trends and anomalies that make them newsworthy that night in our little corner. More often than not, the stories lead with a qualifier along the lines of, "we all know Fox News dominates in the ratings," before moving on to another topic. The stories are all there in our archive and on the web. Twenty minutes of searching and curating would reveal this to anyone with a computer and Internet access.
But this bizarre tirade may be reflective of a far greater issue; her own ratings insecurity. As good as her numbers look against CNN, MSNBC, and HLN, her program appears to be a bit of a ratings albatross around FNC's neck. She has been gifted with a time slot behind two of the highest-rated shows in cable news (O'Reilly and Hannity) and she constantly fumbles the ratings. Last month, for instance, she saw a huge drop-off in ratings from her lead-in, Hannity. He pulled 488,000 viewers on average in the 25 to 54 year-old demo, while she averaged just 349,000. Furthermore, viewers seem to be leaving her show in droves. In a month where we lauded Van Susteren's booking of Gloria Cain when nobody else could get her on their show, she saw her demo numbers slip from 427,000 in November 2010 to 349,000 in November 2011 (an 18% drop). Her overall numbers weren't any better, falling from 1.786 million in November 2010 to 1.583 million in November 2011 (an 11% drop). Her mention in her blog post of being in first at 10 p.m. didn't help her much: the 1.571 million who tuned in last Thursday seem to portend gloomier skies ahead for her, as she continues a trend of sinking ratings.
These ratings posts are meant to take a rather boring subject — Nielsen numbers — and give an opinion on them, while injecting some fun and keeping them relatively loose. They're overwhelmingly positive, opting to highlight surges as opposed to just focusing on dips and disasters (which of course, happens, as well). To call out a reporter for not writing about you is fine. I may have inadvertently not covered Van Susteren as much as she or the people at Fox News would have liked (the same, upon reflection, goes for Hannity, Baier, King, Al Sharpton, Chris Matthews, and Showbiz Tonight). But to question my professionalism in the worst way possible — by throwing an attention-seeking tantrum about a subject which she didn't properly research and purposefully took out of context — is sad.
Van Susteren had, up until Saturday morning, commanded respect. She seems to have a very calming effect on viewers, and her topics are often impressive and laced with smart, thoughtful analysis. In my personal opinion, she is one of the more interesting hosts on cable news. That does not change the fact that Anderson Cooper had a really strong number that night.
In the end, Van Susteren may have more viewers than Cooper, Grace, O'Donnell, and 75% of the hosts on cable news, but she is not trending in the right direction either in terms of ratings or class.
Have a tip we should know? tips@mediaite.com