Fans Create Petition for Jane Fonda, Lily Tomlin to Get Paid Like Actual TV Stars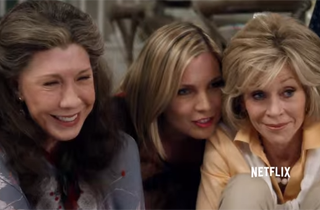 After learning that Jane Fonda and Lily Tomlin of the Netflix series Grace and Frankie weren't paid like actual stars, over 12,000 people signed a petition demanding that they be paid more than their male counterparts who, though talented, are billed as supporting actors.
The furor broke during a press conference promoting the series, about two women in their mid-seventies (the eponymous Grace and Frankie) coping with their husbands (the not-eponymous Sol and Robert, played by Sam Waterson and Martin Sheen) suddenly divorcing them and marrying each other. While Fonda and Tomlin are the main characters in the show, they were furious to discover that they were being paid the same as Waterson and Sheen. (Adding insult to injury: Fonda and Tomlin are also executive producers, while Waterson and Sheen are not.)
"[Tomlin] found out they are getting the same salary that we are," Fonda said during the press conference according to Zap2it. "That doesn't make us happy."
"The show is not Sol and Robert," Tomlin added. "It's Grace and Frankie."
The petition itself notes that, ironically, Fonda and Tomlin starred in the 1980 film Nine to Five, "a comedy about three women who turn the tables on their sexist, bigoted boss, which showed sexism in the workplace in a bold new light."
The conversation around the wage gap in Hollywood exploded during the Sony hacks, when prominent actresses learned they were paid far less than their male counterparts in films where they received equal billing. The revelations led to renewed nationwide discussion about the wage gap,impassioned speeches at the Oscars, and, in Charlize Theron's case, actual raises.
Watch the trailer below via Netflix and see if you can tell who is starring in this series:

[h/t Entertainment Weekly]
[Image via screenshot/Netflix]
—
>> Follow Tina Nguyen (@Tina_Nguyen) on Twitter
Have a tip we should know? tips@mediaite.com