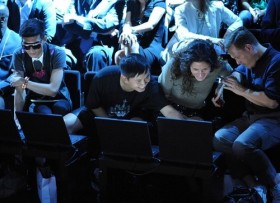 This weekend at the D&G show in Milan, four prestigious fashion bloggers (Scott Schuman, Tommy Ton, Garance Doré, and Bryan Boy) were given precedence over the rest of the attendees with laptops and desks placed in front of their chairs. According to Mr. Ton, the street-style shutterbug, famed photographer Mario Testino was seated next to him, took note of his seatmate, and got up to be moved.
Maybe I'm jumping to conclusions, but, who is to say that bloggers are nothing less than journalists in their own right? Ironically enough, the former bro is currently gaining as much attention as the latter bro, having just signed a deal with Style.com. Yes, that's Tommy Ton signed to Style.com — run by Vogue, heard of it? — where he is currently being touted proudly as "Our Man In Milan." Oh, and he inherited that position from another blogger bro: Scott Shuman, aka The Sartorialist.
It's 2009. It's about time that talents are recognized, regardless of résumé.
It is also important to note that since the invention of the Internet, increasing attention has been paid toward the fashion world; magazines have been folding left and right, yet thousands of new websites are created each day. And, to be sure, social-networking has helped to aid in the dissemination of information. Fashion "bible" WWD has garnered over 1.2 million followers on Twitter and the newest generation of bloggers seem to be more important than ever; 13-year-old Tavi of Style Rookie scampered from runway show to runway show [with the accompaniment of her father] this past season, which raises the question of how age and education are truly weighed when explosive creativity is at play. Achieving popularity has been more about how authors have redistributed knowledge from experience by going out into the world, whether physically or electronically.
To say that e-writers are "the future" is a bit of cliché, but I truly feel there isn't much difference between myself and already-respected writers; I could do as much research, speak to as many people, and have the potential to work as hard if given the opportunity. (And have all the free time of a 13-year old!) I may not have the same closets, connections, or credentials as some of those who have risen to the top, but, who is to say that I couldn't in the future?
I, and many others, could. Plus, I have great hair.
Sara is a 24 year old certified archivist with a passion for wall collages, eating soup, thrift shopping, and old books. Past fashion faux pas include sandals with socks, wearing the same sweatshirt for an entire week straight, and owning a fanny pack. Read her daily tomfoolery at www.sarazucker.com.
Have a tip we should know? tips@mediaite.com