FBI Warned GOP Congressman in 2012 That Russia Was Trying to Recruit Him as 'Agent of Influence'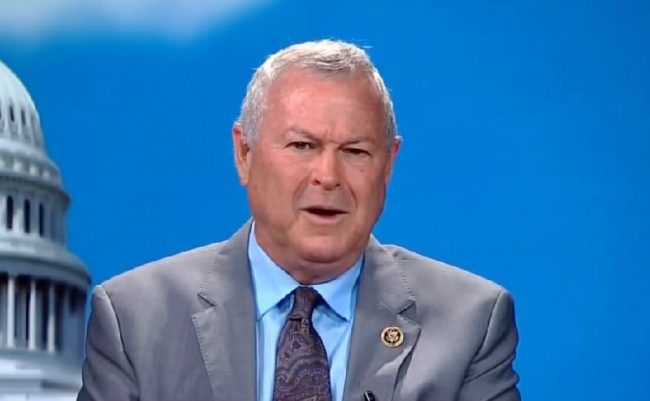 One of President Donald Trump's biggest supporters on Capitol Hill and a consistent defender of the Kremlin was warned by the FBI in 2012 that Russian spies were attempting to recruit him. According to the New York Times, Rep. Dana Rohrabacher (R-CA) was pulled aside by the agency into a secure room and informed that Russia was trying to make him an "agent of influence."
Rohrabacher's name has come into the news of late due to a "joke" told by House Majority Leader Kevin McCarthy last year. In audio obtained by the Washington Post, McCarthy stated that there's "two people I think [Vladimir] Putin pays: Rohrabacher and Trump." The comment came in an exchange with other GOP leaders a month before the Republican National Convention.
Commenting to the NYT, Rohrabacher acknowledged the meeting with the FBI occurred:
Mr. Rohrabacher said in a telephone interview on Thursday that the meeting had focused on his contact with one member of the Russian Foreign Ministry, whom he recalled meeting on a trip to Moscow. "They were telling me he had something to do with some kind of Russian intelligence," Mr. Rohrabacher said. He recalled the F.B.I. agent saying that Moscow "looked at me as someone who could be influenced."
And the FBI noted that it appeared that the California lawmaker was unaware he was being actively recruited:
Law enforcement officials did not think that Mr. Rohrabacher was actively working with Russian intelligence, officials said, rather that he was being targeted as an unwitting player in a Russian effort to gain access in Washington, according to one former American official. The official said there was no evidence that Mr. Rohrabacher was ever paid by the Russians.
Rohrabacher is well-known for his support of Russia, hence his being targeted by McCarthy last year. In December, he engaged in a combative exchange with Yahoo News' Bianna Goldryga, disagreeing with her that Russia has committed human rights abuses. In January, it was reported that he planned on taking a Congressional delegation to Russia to "work with the Duma," the Russian legislature.
[image via screengrab]
—
Follow Justin Baragona on Twitter: @justinbaragona
Have a tip we should know? tips@mediaite.com