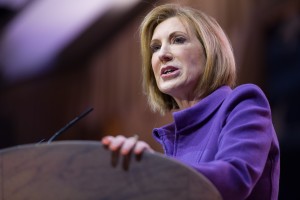 In a weird bit of non-Carly Fiorina news that still has very much to do with Carly Fiorina, a Super PAC dedicated to supporting the GOP candidate's 2016 run at the White House had to change its name due to an FEC violation.
Still seems like a harmless bit of info, yes? Well here's the kicker — the Super PAC, which was originally named "Carly for America," must now go by the name "CARLY for America Super PAC." Not only does the change add two words, but it also turns the candidate's name into an acronym. Why? Again, because of the FEC.
As the Washington Post points out, "FEC rules state committees can only use a federal candidate's name if they're authorized by that candidate, something super PACS, by rule, cannot be since they're supposed to be independent." other Super PACs like those supporting Hillary Clinton and Rand Paul have already had to make similar changes, but CARLY for America Super PAC's change tried its best to retain the candidate's name without really using it.
You see, "CARLY" is the acronym (hence the ALL CAPS), and its what WaPo writer Hunter Schwarz calls a "backronym": "an acronym made after-the-fact." "CARLY" is supposed to stand for "Conservative Authentic Responsive Leadership for You and." Add "America Super PAC" and everything's cheeky again, sort of.
The group was given notice by the FEC back in April, and their options were simple: either (1) change the name, or (2) get Fiorina's approval. They opted for the former, but only just barely. Carly's name is still literally in the super PAC's name, but since it has been transformed into a piecemeal acronym, they're able to get away with it.
[h/t Washington Post]
[Image via Shutterstock.com]
— —
>> Follow Andrew Husband (@AndrewHusband) on Twitter
Have a tip we should know? tips@mediaite.com