Fight Of The Century! Aniston Strikes Back At O'Reilly Over Ruination Of Society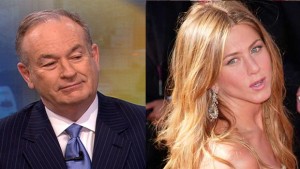 Finally. In the years since Fox News hit the scene and began its rise towards cable news domination, slowly edging out the competition, we all knew this day was coming. We all knew that, as tensions boiled between newscasters of different political ideologies, eventually an epic battle would begin. The war I speak of is, of course, between Fox News' Bill O'Reilly and the most famous cast member from Friends. If you'll recall, O'Reilly had some choice words for Jennifer Aniston on Tuesday night, saying that she was being "destructive to society" by giving interviews where she implied, while doing press for her new movie The Switch, that being a single mother isn't the worst thing in the world. It was a pretty dumb argument and now Aniston has shot back with a response that's was catty, sharp, and much better than Keith Olbermann's.
From People:
"'Of course, the ideal scenario for parenting is obviously two parents of a mature age. Parenting is one of the hardest jobs on earth,' Aniston tells PEOPLE exclusively. 'And, of course, many women dream of finding Prince Charming (with fatherly instincts), but for those who've not yet found their Bill O'Reilly, I'm just glad science has provided a few other options.'"
Oh, it's on!
Alright, it probably isn't on. It's still a pretty funny comeback. It's doubtful this fight will continue but, it is August, so you never know. Still, though, many questions remain. Namely: Is The Switch gonna be any good? I mean, it's got a good cast and it's based on a Jeffrey Eugenides short story but the trailers and posters look pretty stupid. At least that's the main question that remains for me.
Have a tip we should know? tips@mediaite.com