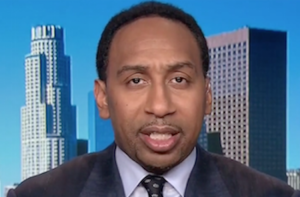 ESPN's First Take has been a leader in the crowded TV sports hot take field for some time. But its original star, Skip Bayless, left to start a new show on Fox Sports 1, and ratings have gone down since his departure in June.
So in an effort to reverse the trend, First Take is being moved from ESPN2 to the flagship network, ESPN — this according to John Ourand of Sports Business Journal.
According to the Sports TV Ratings wesbite, First Take seldom dipped below 400,000 daily viewers this time last year when it was hosted by Bayless and Stephen A. Smith, and moderated by Molly Qerim. This year, with Max Kellerman having taken over for Bayless, the daily viewship number frequently comes in below 300,000.
Bayless's new show, meanwhile, appears to have made a dent. Undisputed, which Bayless co-hosts with Shannon Sharpe and is moderated by Joy Taylor, generally checks in with around 100,000 viewers per day. Further, the numbers appear to be steadily climbing just a bit.
Burke Magnus, ESPN's vice president of programming and scheduling, told Sports Business Journal that the company doesn't believe that First Take's ratings have been adversely effected by having Undisputed as a timeslot competitor.
"Skip could have left to work on a lobster boat and ratings would have suffered," Magnus said. "We knew there would be an impact with Skip and Stephen A. splitting up. It would be naïve and disingenuous to believe or say otherwise."
Magnus said First Take's move to ESPN has been in the plans for a while.
"This is something that we've talked about for a long time," he said. "We believe the ratings impact has settled down now, and we're seeing our numbers start to grow."
[image via screengrab]
–
Follow Joe DePaolo (@joe_depaolo) on Twitter
Have a tip we should know? [email protected]
Joe DePaolo - Senior Editor