Flashback: Ezra Klein Insists Obamacare Employer Mandate 'Should Be Repealed'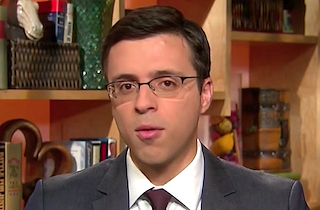 On February 10, a sheepish announcement from the White House revealed that the administration will delay the enforcement of the Affordable Care Act's mandate for small businesses to over their employees' health coverage or pay a fine. Now, for firms with between 50 and 99 employees, the employer mandate will not take full effect until 2016. This mandate was previously delayed for business of any size until 2015.
The Census Bureau estimates that 98 percent of businesses have fewer than 100 employees, accounting for 35 percent of the U.S. labor force. The financial services firm LIMRA conducted a study last year which concluded that only 40 percent of these firms offer their employees' insurance benefits, down from 47 percent in 2005.
This is not a small change in the law.
The announcement comes just days after the White House divulged to insurance providers – who in turn disclosed their conversations to the press – that the integrity of the individual mandate may be further eroded. The administration told some insurance providers that they were contemplating allowing those individual plans that were cancelled as a result of the ACA's coverage mandates to be reinstated for another three years.
The White House is now trading short-term political headaches for long-term structural deficiencies in the Democratic Party's signature 21st Century legislative achievement. It will not, however, be President Barack Obama's problem. The focus of both the public and the press will be on the challenges facing his successor after the 2014 midterm elections.
RELATED: Obamacare Employer Mandate for Small Businesses Delayed Until 2016
This is why it is valuable to revisit former Wonkblog chief columnist Ezra Klein's reaction the first time the enforcement of the employer mandate was delayed in July, 2013. Klein took to his space in The Washington Post, hours after the announcement was quietly made on the Treasury Department's Assistant Secretary for Tax Policy's blog, where he recommended that Congress repeal the employer mandate entirely.
His reasoning is perfectly sound and, some will note, eerily familiar:
– By imposing a tax on employers for hiring people from low- and moderate-income families who would qualify for subsidies in the new health insurance exchanges, it would discourage firms from hiring such individuals and would favor the hiring — for the same jobs — of people who don't qualify for subsidies (primarily people from families at higher income levels).

– It would provide an incentive for employers to convert full-time workers (i.e., workers employed at least 30 hours per week) to part-time workers.

– It would place significant new administrative burdens and costs on employers.
Some will recognize these points from a recent Congressional Budget Office report which warned of a perverse set of disincentives within the ACA which would have the effect of reducing labor and productivity.
Klein was and remains correct: beyond the deficiencies within the law itself, there is no point to having a law which the executive branch refuses to enforce. Many would argue it is far worse, in fact, to allow the executive branch this level of discretion over whether or not to perform its primary function – enforcing provisions passed by the legislature.
And to those that say the ACA is the law of the land and cannot, and should not, be repealed, I submit the ACA's individual mandate:
"It's just too late," American Enterprise Institute's Joe Antos told The Washington Post's Sarah Kliff in September, 2013. "Everybody who is involved, insurance companies and hospitals and any other big entity, they're ready to go. They really can't make any changes."
The individual mandate's enforcement was delayed, too, in October for another four weeks.
[Photo via screen grab]
— —
> >Follow Noah Rothman (@NoahCRothman) on Twitter
Have a tip we should know? tips@mediaite.com