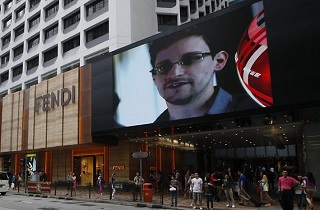 Edward Snowden, the former National Security Agency contractor who leaked details of the agency's data-collection programs a few weeks ago, then fled to Hong Kong, told the South China Morning Post that he wasn't "hiding from justice," and that he wanted to ask the courts and people of Hong Kong to decide my fate."
Now that that fate could include extradition to the United States, Snowden has apparently lost faith in the courts and people of Hong Kong, as The Guardian now reports Snowen has fled to Moscow, although this appears to be just the first destination in a whirlwind civil liberties irony tour:
The NSA whistleblower Edward Snowden has flown out of Hong Kong, where he had been in hiding since identifying himself as the source of revelations on US surveillance programmes, despite a US request for his arrest.

The 30-year-old had previously said he would stay in the city and fight for his freedom in the courts. But the Hong Kong government confirmed that he left on Sunday, two days after the US announced it had charged him with espionage, saying documents filed by the US did not fully comply with legal requirements.

…According to the South China Morning Post, Snowden boarded an Aeroflot flight to Moscow, although the newspaper said Russia was not his ultimate destination. It suggested he might go to Ecuador or Iceland – having cited the latter as a possible refuge in an interview with the Guardian.

However, reports from Moscow indicate that Havana would be his next port of call, with the ultimate destination either Caracas in Venezuela or Quito in Ecuador.
Edward Snowden has become the seventh person to be charged under the Espionage Act by the Obama administration, and the tenth in history. Thus far, the Obama administration's Espionage Act prosecutions have resulted in a combined 50 months of prison sentences, and one year of probation.
[imageviewer id=571]
Have a tip we should know? tips@mediaite.com