Flight Instructor's CNN Appearances Get Him Fired (and Accused of Shaming His Country)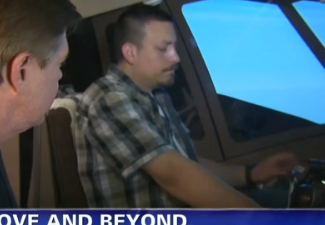 Mitchell Casado is the flight instructor who ran the flight simulator utilized by CNN in its MH370 coverage, sitting in the cockpit to help Martin Savidge with his reports on what could have happened to the missing plane. Well, Casado has now been fired by his company uFly for reportedly being tardy and, as uFly owner Claudio Teixeira put it, making Canadians "look very bad all over the world."
Casado became a social media sensation during CNN's coverage, partly due to his plaid shirts, inspiring a Twitter account for said shirts. Savidge announced on Twitter today that he'll be switching his reporting to get an underwater perspective on the hunt for the missing plane, and it was today when Casado got fired by uFly.
RELATED: CNN Tried to Rent a Real Plane to Augment MH370 Coverage
According to the Associated Press, Teixeira said Casado has been tardy on a number of occasions and, far from the sensation it's been on Twitter, his plaid shirts have received e-mail complaints in response. Teixeira said Casado has shamed an entire people.
"Even though I let him be on TV he shamed us Canadians and shamed my company with the way he was dressing like he was 15 years old… People were complaining that it wasn't professional at all… If you go to any plane you don't see them in shorts and sandals."
Casado tweeted earlier today about his firing.
My boss had me training a new guy the last few days, and now that he can do my job, and CNN left, he fired me. That's Ufly.

— Mitchell Casado (@MitchellCasado) April 16, 2014
CNN's Jeanne Moos covered the social media reaction to the simulator and Casado himself a few weeks ago. You can watch that video below:

[photo via screengrab]
— —
Follow Josh Feldman on Twitter: @feldmaniac
Have a tip we should know? tips@mediaite.com
Josh Feldman - Senior Editor