Florida Democratic Rep. Alcee Hastings Faces Ethics Review Over Sexual Harassment Allegations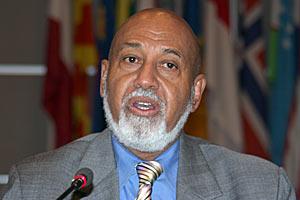 A congressional ethics panel has been tasked with looking into allegations that Democratic Florida Congressman Alcee Hastings sexually harassed a former member of his staff. The Office of Congressional Ethics began looking into Hastings' actions after conservative watchdog group Judicial Watch filed a lawsuit on behalf of Winsome Packer, the staffer in question. Packer, a Republican, alleges that she was sexually harassed by Hastings, who was chairman of the U.S. Commission on Security and Cooperation in Europe at the time, and that he "retaliated" when she tried to report the abuse. According to Packer, the harassment took place between January 2008 and February 2010, and included Hastings' attempts to convince Packer to allow him to stay with her in her home in Vienna as well as "unwelcome touching." She also alleges that he inquired about her undergarments in front of others.
When she tried to report his behavior, she says, Hastings grew upset:
The lawsuit alleged Mr. Hastings and a senior aide at the commission retaliated against her for attempting to report the incidents to the staff of other members of Congress and the Office of Compliance, which handles claims of harassment from congressional staff members. Ms. Packer also alleged Mr. Hastings pressured her to give him gifts and make financial donations to his re-election campaign.
Hastings offered a… non-response, of sorts… to the allegations during a recent interview:
Quite frankly your source has as much or more information than I do and I would suggest you rely upon them. It would be impossible for me in a paragraph or a page or two or a tome or volumes one and two to help you understand the dynamics of these events. I'll leave it at that.
His lawyer, meanwhile, stated that Hastings denies the charges.
h/t WSJ
Have a tip we should know? tips@mediaite.com