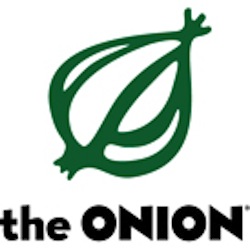 Who: Joe Garden, John Krewson, Katie Palmer, Seth Reiss, Will Tracy, moderated by Anderson Cooper
What: "The Onion: Celebrating 1,000 Issues of Prize-Worthy Journalism"
Where: Paley Center for Media
When: June 21, 2011
Thumbs: Up
The Onion has come a long way since it started in Madison, Wisconsin, two decades ago, and the writers are (half-jokingly, as always) seeking the recognition they so rightfully deserve – in the form of a Pulitzer Prize. Their grassroots campaign, being led by the fictional Americans for Fairness in Awarding Journalism Prizes, has drawn some much-coveted attention online. Although more senior editors Joe Garden and John Krewson could speak about the paper's stoic rise, it was the younger staffers Will Tracy and Seth Reiss who represented this ongoing campaign. It's clear that they take great pride in the history of the publication, and in this effort to get them their due.
Every week, the staff considers around 400 headlines, hoping to eventually whittle that number down to 14 and then assign stories to writers accordingly. During staff meetings, there's a collaborative discussion to get all of the ideas out there. The staff says that since there are no by-lines and they all deeply care about the success of the paper, there's no holding back of ideas. It's no wonder then that throughout this panel the various editors spoke over one another, not trying to upstage each other, but excited to share their thoughts, impressions, and examples with the audience. You got a real sense of how loud and chaotic their staff meetings must be.
What is surprising, though, is that not everyone on the paper's editorial team comes from a strong comedy background. Katie Palmer previously worked at Foreign Policy before joining the staff. Palmer and the other editors consider more than just the humor inside the stories – they want to convey the right "mix" of stories within each issue. Garden confessed that they fret over the freshness of their stories – from staying on top of the news to holding back from piling on one subject – more than readers would ever notice or realize.
They use social media for several purposes. First, it allows them to tell jokes that wouldn't have necessarily made it into the paper otherwise. Second, they can tease a funny line that could be used at a later point in the form of a longer piece. Finally, Twitter allows the writers to discover the obvious observations that people are making upon breaking news, and they can tailor their approach to avoid making similar jokes. The writers also stress the importance to know the target of their jokes, without automatically setting for the easy targets. Rather than try to be funny, they say, aim for a dryer delivery. And keep to a baffled, Midwestern tone throughout. They agreed that's where the humor really comes from.
What They Said
"I was told I didn't have the disposition to be an actual journalist because I actually like to sleep at night."
– John Krewson reflects on why he left his college paper to work on a satirical one instead

"It's funnier in print to me, turning the page and seeing what's there."
– Will Tracy defends print journalism, in the name of comedy
"We try to separate the political biases from the actual writing."
– Katie Palmer believes that the publication stays equally fair to – and mocking of – both sides

"That's not that interesting…if it was that interesting, I would have asked the question."
– Anderson Cooper jokingly takes issue with Reiss' decision to begin a response with "Here's something interesting…"

"I was upset, I was mad at these people, and I was not kind to them."
– John Krewson remembers how he felt when he wrote an infamous post-9/11 article about the al Qaeda bombers

"The problem with the previous president is that it was too easy. The jokes came on a silver platter."
– Joe Garden says that George W. Bush gave them a lot to work with

What We Thought
Moderator Anderson Cooper was a riot. He went toe-to-toe with these hilarious people, even issuing some zingers of his own at their expense. Cooper showed a great deal of comfort with the material, the panelists, and the audience.
Who are the people in the headshots and photographs in the paper? Mostly those they have come across, or family members of staff members. And one old yearbook. We enjoyed seeing how proud they were that they could sneak the same pictures into multiple issues.
PANEL RULES!
Some audience behavior seems to repeat itself panel after panel. We'll be updating a running list of "PANEL RULES!" that will help ensure that you are not the dweeb of the Panel Nerds.
Panel Nerds don't like…Geekdom for the sake of geekdom
Obviously an event like this one will draw an underground crowd of geeks. We weren't surprised to see such a young (and pale) crowd at the Paley Center. So here's a note for those who may not have been outside in a while: When you ask a very specific question about something the rest of us probably don't know anything about, begin it with some explanation or orientation. You're entitled to ask about a radio show you listen to run by The Onion media empire. But at least inform us that it's a radio show. Thankfully, Garden understood the potential for befuddlement and proceeded to fill us all in on what "Doyle Redland" was.
Have a tip we should know? tips@mediaite.com