Floyd Abrams Warns of Serious Threats Trump Administration Poses to Freedom of the Press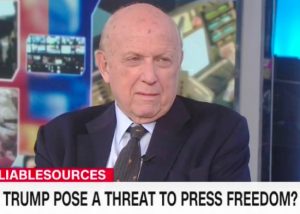 During an appearance on CNN's Reliable Sources, famed First Amendment lawyer Floyd Abrams discussed the real danger that the media faces in the age of a Donald Trump presidential administration.
Speaking to host Brian Stelter, Abrams did note that there is no federal libel law, that the libel laws are on the state level. This was regarding Trump's past statements that he would loosen up libel laws to make it easier to sue media outlets. (Last week, Abrams mentioned that perhaps the press should look at using libel laws to their advantage.)
However, as he explained to Stelter, journalists and news agencies do face some real dangers with Trump as President of the United States.
He noted that "he could lead the public to be so anti-press" that even if it didn't destroy the press, it could "limit its ability to do its constitutionally protected role."
He also brought up that one Republican Congressman said that the FCC should look into possibly revoking licenses of certain stations over its coverage of Donald Trump, noting that the administration could use these threats to exert pressure on media outlets. They also discussed Trump possibly using the IRS to investigate journalists as another intimidation tactic.
Abrams, who is the father of Mediaite founder and ABC News analyst Dan Abrams, invoked President Barack Obama over the amount of times Obama went after whistle-blowers for leaking info to the press, noting that Trump could push his Attorney General to go after the press in this way.
Watch the clip above, via CNN.
[image via screengrab]
–
Follow Justin Baragona on Twitter: @justinbaragona
Have a tip we should know? tips@mediaite.com