Fmr Spokesman Gets Candid: Breitbart is Lying About Their Own Reporter's Assault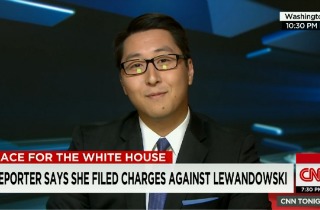 Friday night on CNN, Don Lemon spoke to the now-former spokesman for Breitbart, and got a brutally honest answer on the subject of the site's conflicting approach to their reporter's alleged attack by Donald Trump's campaign manager.
Michelle Fields alleges that Trump staffer Corey Lewandowski grabbed her and tried to throw her to the ground when she tried to ask a question after Thursday's GOP debate. Even though Breitbart's management issued statements supporting her and demanding an apology, two of the site's reporters issued statements challenging Fields' allegations and arguing in favor the Trump campaign's narrative that it was not Lewandowski despite the evidence.
Kurt Bardella ended his partnership with the site yesterday, telling Mediaite that he could no longer abide by the conservative outlet's reporting, and especially not their handling of the incident. "I think they've been looking for a reason to disprove something," Bardella told Lemon, referring to Fields' accusation of Lewandowski, "when all of the evidence… suggests that Donald Trump's campaign manager Corey Lewandowski is the one who did this."
Bardella's decision was the focus of his interview with Lemon, and he was asked if he thought the site was lying as part of their pro-Trump spin. Bardella replied with a very simple "Yes, I am," and added that although all of the facts were not immediately known, once the evidence poured in, "there was a resistance from Breitbart to supporting Michelle.
Bardella also said that Breitbart's actions demonstrate an increasing resistance to supporting Fields, and that they would prefer to accept the Trump's version of events over hers. "When you've gone all in for a candidate and you've got that much skin in the game, you don't want to see that derailed," Bardella said.
When asked for his opinion on Trump, Bardella answered that the mogul makes him feel "embarrassed" to be a Republican.
Watch above, via CNN.
[image via screengrab]
Have a tip we should know? tips@mediaite.com