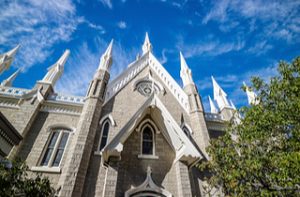 In the grand tradition of Wikileaks comes a new leaks site that launched on Monday: Mormon WikiLeaks. It's exactly what you would expect it to be: A secure way for conflicted and/or ex-Mormons to leak internal documents from the Church of Jesus Christ of Latter Day Saints. The site's founder, Ryan McKnight, got a bit of attention in October for his YouTube channel, "Mormon Leaks," which spotlighted videos of conversations between various senior members of the church.
"Our goal is, pure and simple, transparency," McKnight told the Washington Post. "Sometimes people come across information through the course of their jobs that makes them feel uneasy or like it is something that church members deserve to know." When McKnight posted the various YouTube videos, he was  "bombarded with messages" of support. So when various members of an ex-Mormon Reddit forum suggested a secure site would make them more at ease with sharing church documents, he decided to get to work.
McKnight did issue a disclaimer, though: That many of the leaks will not be especially exciting. One of the purposes of the site will be to show how much of the church is run like a business, with numerous decisions that are clearly not "divinely ordained." It's not necessarily as intriguing to non-Mormons as the church rituals that are closely guarded, but as McKnight noted, "for someone in the middle of a faith transition, such information is more fuel for the fire."
A spokesman for the church declined comment to the Post.
[Photo: Shutterstock]
Have a tip we should know? tips@mediaite.com