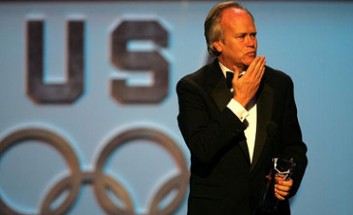 For all of the punches Conan O'Brien has been taking at NBC hosts and honchos, it was only a matter of time before he caught a shot back, and it came hardest from NBCU Sports Chairman Dick Ebersol, who called Conan an "astounding failure" as well as "chicken-hearted and gutless" in the New York Times. Now, an anonymous former NBC Sports employee has taken to sports gossip blog Deadspin with a detailed retort of Ebersol's own failures.
"Dick Ebersol Is The Biggest Failure Of Them All" took "great offense" at Ebersol's Conan comments and took his ex-boss to task for his own "ego run amok."
"Astounding failure" would be a fair term for his own recent blunder. Just days before Ebersol lobbed grenades at a man already negotiating terms of surrender (talk about chicken-hearted and gutless!), it was announced that his sports unit would lose millions on the Olympics — up to and possibly over $200 million, according to parent company GE. Perhaps most tellingly, the financial disaster is not due to advertising sales in the soft economy. In fact, Ebersol himself admitted it was due to overpaying for broadcast rights, a decision for which he is ultimately responsible.
The rest of the blistering piece is in list form, chronicling "Ebersol's recent stretch of questionable decisions" including the XFL, AFL, Universal Sports, as well as deals with Notre Dame football and lost contracts with Major League Baseball and the National Basketball Association. It closes with the assessment that Ebersol and Jay Leno are "essentially the same character in alternate NBC worlds."
You can read the whole counter-argument here.
Have a tip we should know? tips@mediaite.com