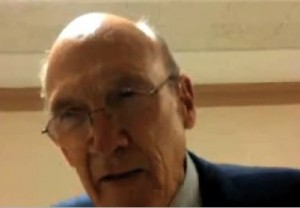 Last seen referring to Social Security recipients as "lesser people," former Senator and Deficit Commission Co-Chair Alan Simpson has now downgraded the entire population from people to suckling calves. In an email to Older Women's League executive director Ashley Carson, Simpson referred to "any system in America" as "a milk cow with 310 million tits!"
This latest outburst from Simpson has groups like Social Security Works renewing their calls for his resignation or removal from the Deficit Commission.
Simpson's email was in response to an April HuffPo column by Carson, in which she accuses him of sexism for apparently referring to her group as "Pink Panthers." Given that context, his reference to "tits" seems particularly hostile. Beyond the apparent sexism, though, is a disturbing attitude toward the people who have worked to pay into Social Security all these year:
If you have some better suggestions about how to stabilize Social Security instead of just babbling into the vapors, let me know. And yes, I've made some plenty smart cracks about people on Social Security who milk it to the last degree. You know 'em too. It's the same with any system in America. We've reached a point now where it's like a milk cow with 310 million tits! Call when you get honest work!
When I asked Press Secretary Robert Gibbs about calls for Simpson's removal in June, he said he didn't know anything about it. This latest controversy, however, seems to be gaining more traction than the last, which was overshadowed by news surrounding the BP Oil Disaster. Perhaps the White House will take notice this time.
Have a tip we should know? tips@mediaite.com